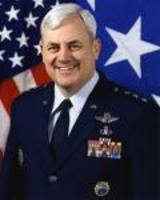 In my opinion, this company has the potential to finally break the grip of big oil and positively shift the world's energy markets toward clean, renewable, and sustainable energy like no other company that has come before it," says General Dierker.
(PRWEB) February 2, 2010
ERRA Incorporated, San Antonio, Texas, announced today that it has appointed Lt. General Robert R. Dierker, a retired United States Air Force three-star general, as its first Chief Operating Officer (COO).
"We are absolutely delighted to have Bob Dierker on board with ERRA. Bob has already served his country with a distinguished career as a military officer. Now he will be an invaluable asset to ERRA's growth, both domestically and internationally. Bob Dierker possesses very strong leadership skills, has vast experience in taking R&D from concept to deployed technology, has been involved in the successful negotiation of several international treaties, and communicates a strong interest in eliminating America's dependence on foreign oil. He's a perfect fit for our company's philosophy and culture," says ERRA's board chairman, Bernard Reznicek, the former president and CEO of Boston Edison and Omaha Public Power.
"Following our acquisition of Ergenics Corporation of Ringwood, New Jersey, ERRA is now in the process of commercializing several proprietary and patented clean, environmentally friendly energy technologies which promise to decrease the world's dependence on petroleum and other fossil fuels. Bob Dierker's global experience gives him a unique perspective on the need for reducing such dependence. Current instability in the largest of the oil-producing regions of the world is among the most imminent threats to U.S. national security, as well as energy and economic independence. Bob Dierker believes strongly in the national effort to create an alternative source of power generation, storage, and delivery, especially in our nation's transportation sector, as well as our commercial and residential markets. Much more than launching just a leading alternative clean energy company, we at ERRA are working to avert an otherwise inevitable confrontation, or at the very least an intensified international competition for limited resources," says James Hogarth, ERRA's CEO.
"There were several compelling factors which ultimately brought me to ERRA, the most persuasive of which was the company's impressive portfolio of clean energy technologies. In my opinion, this company has the potential to finally break the grip of big oil and positively shift the world's energy markets toward clean, renewable, and sustainable energy like no other company that has come before it," says General Dierker. He points to ERRA's battery as its primary focus, which he believes will quickly establish ERRA's role as a major presence in the marketplace. Known as the YESS, or "Your Energy Storage Solution" Battery, this unique technology possesses "game changing" attributes, including an unmatched number of charge/discharge cycles, high power and energy density, low maintenance, 100% dischargeable, tolerance to both over-charge and under charge, as well as unparalleled safety attributes. Perhaps the most important attribute of the YESS battery is that it will be cost competitive with lead acid batteries on a life cycle cost basis!
Already engaged in leading the effort to commercialize ERRA's technologies, Dierker announced that the YESS Battery will be in commercial production within a year and will be targeted for the emerging electric and hybrid electric vehicle markets; uninterruptible power supply for the grid and non-grid connected telecommunications markets; wind and solar energy storage (which make this technology fully dispatchable for the first time); utility load-leveling; as well as material handling and mobility markets. The YESS Battery will enter commercial production with between 90Wh/kg to 125Wh/kg depending on application, packaging and voltage requirements.
ERRA's new COO also announced the company's intention to further develop it's other patent protected technologies based on its reversible metal hydrides. These include heating and air conditioning systems (HVAC) as well as refrigeration systems that can be operated at up to a 60% savings over conventional compressor-driven systems while eliminating harmful and expensive refrigerant gases.
Other technologies on his agenda to bring to market will be a revolutionary heat engine that can produce low cost, zero emission electricity anywhere there is a low grade waste heat stream or a temperature differential of 25 degrees C; a smart fire sprinkler system that automatically shuts off when the surrounding fire has been extinguished, a hydrogen compressor, and finally an affordable integrated package capable of making any residential, or one or two story commercial building completely independent of the grid!
While in the military, General Dierker served as the Deputy Commander of the United States Pacific Command. He entered the Air Force in 1972 as a distinguished graduate of the U.S. Air Force Academy. General Dierker served in various operational and staff positions in the United States, Southeast Asia, Northeast Asia and Europe.
For additional information about ERRA, please contact:
James Hogarth, CEO
ERRA Inc.
Phone: 210-478-9657
Email: james.hogarth(at)errainc(dot)com or errainc(at)gmail(dot)com
ERRA
Environmental, Revolutionary, Reliable;
A Clean Alternative to Fuel Dependence
"Safe Harbor" Statement under the Private Securities Litigation Reform Act of 1995:
This press release includes forward-looking statements intended to qualify for the safe harbor from liability established by the Private Securities Litigation Reform Act of 1995. These forward-looking statements generally can be identified by phrases such as ERRA Incorporated, Ergenics, Inc. or their management "believes," "expects," "anticipates," "foresees," "forecasts," "estimates" or other words or phrases of similar import. Similarly, statements herein that describe the Company's business strategy, outlook, objectives, plans, intentions or goals also are forward-looking statements. All such forward-looking statements are subject to certain risks and uncertainties that could cause actual results to differ materially from those in forward-looking statements.
ERRA Incorporated The Clean Technology Company (TM), the YESS "Your Energy Storage Solution" Battery and the Smart Sprinkler System are protected under the Copyright and Trademark Laws of the United States of America. ERRA Incorporated 2010. All rights reserved.
###