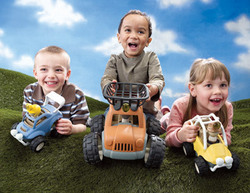 We offer an environmentally safe product line while keeping our children active and their planet safe.
Odenton, MD (PRWEB) January 21, 2010
Online Toy Store Retailer, BuyBoxShip has announced its plans to expand its toy line to include Eco-Friendly toy sensations CitiBlocs, Green Toys, Keva Planks, Sprig Toys & ImagiPlay. "We are very excited about our partnerships with each of these innovative toy manufacturers" states, Antonio Diaz, Founder & President of BuyBoxShip. "As parents we are always looking for toys that stimulate creative play within our children while at the same time giving us a sense of security that what they are playing with is safe from unnecessary toxins. This is why we offer an environmentally safe product line keeping kids active and our planet safe".
BuyBoxShip launched their store on ebay (in 2008) with a lot of success and decided to branch out with their own eCommerce site. Antonio Diaz brings over 25 years of experience serving customers. He has held key management positions within the service industry and believes in the importance of listening to his customers and building strategies that address their needs while driving towards providing exceptional service experiences with each transaction.
"Our goal is to bring the best in products to you and to provide the highest level of service possible for you. We realize that there are many online stores that provide the same product lines (as we do) but we feel that with our commitment to service it will help separate us".
BuyBoxShip continues to build their fan base and looks to add an Infant line of Eco-Friendly Toys this Spring. "We will continue to work to hard for our customers to identify innovative toys that provide "Fun & Safe Play" for their kids".
Celebrate the Day!
###