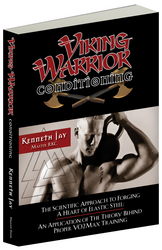 After only a 20-minute kettlebell workout, research subjects burned an average of 272 calories.
Los Angeles, CA (PRWEB) January 21, 2010
Scientists at University of Wisconsin are stunned by the research: Kettlebell calorie burn is off the charts.
Pavel Tsatsouline and Dragon Door Publications introduced kettlebells to America in 2001 with their landmark Russian Kettlebell Challenge programs. Their claims that the kettlebell delivers superior fat loss to any other method have finally been vindicated by scientists, in research funded by the American Council on Exercise (ACE).
Kettlebell training is all the rage in the U.S. -- sparked in great part by enthusiasts' claims that kettlebell drills strip off unwanted fat faster than aerobics, running, treadmills or any other popular weight loss programs. "You get twice the results in half the time" is the claim. Truth or just hype?
Funded by the American Council of Exercise (ACE), research published in the January/February 2010 issue of ACE FitnessMatters proves that there's plenty of scientific truth to back up the fat loss claims.
The research team led by John Porcari, Ph. D and Chad Schnetter, M.S at the University of Wisconsin, La Crosse Exercise and Health Program, used a VO2max kettlebell snatch protocol developed by Dragon Door author and Master RKC kettlebell instructor Kenneth Jay, in Jay's bestseller Viking Warrior Conditioning.
After only a 20-minute kettlebell workout, research subjects burned an average of 272 calories. However as, Dr. Porcari states in his research conclusions: "We also measured the blood lactate, so anaerobically they were burning another 6.6 calories per minute, which is off the charts. That's equivalent to running a 6-minute mile pace."
The scientists credit the startling level of calorie burn to the fact that the kettlebell workout is a total-body movement that is also done very quickly, due to the interval-training format. Added researcher Schettler, "The kettlebell workout gives you a big bang for your buck in a very short amount of time."
Gerard Butler supposedly used kettlebells in part to hone his chiseled physique as Leonidas in 300. Now, modern science has provided the proof that this "Spartan" exercise tool offers new hope for those still struggling to lose unwanted body fat -- or wishing to lose that body fat far faster than traditional methods.
To learn more about the fat burning methods of Kenneth Jay's kettlebell snatch workout, get his Viking Warrior Conditioning, available at http://www.dragondoor.com/b39.html
Once a little-known Russian training device, the kettlebell appears to be rewriting the formula for truly effective strength, cardio and weight loss. To learn more about Russian kettlebells visit http://www.russiankettlebells.com
To arrange an interview with Kenneth Jay or receive review copies of Kettlebell books and DVDs contact John Du Cane at 651-487-3828 or email jducane(at)dragondoor.com
Dragon Door Publications, Inc is the world's leading provider of both beginner and advanced kettlebell training resources.
###