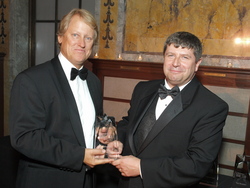 "For their forward-thinking, innovative leadership in the Australian wine industry and an unflagging commitment to quality and family ownership, Yalumba is Wine Enthusiast's New World Winery of the Year."
Napa, CA (PRWEB) January 25, 2010
Yalumba, Australia's oldest family owned winery, was honored tonight in New York at the Wine Enthusiast Magazine Wine Star Awards gala.
Robert Hill Smith, 5th generation Yalumba proprietor and vigneron, accepted the 'New World Winery of the Year' award to a sold-out event of over four hundred members of the wine industry and celebrity guests.
Yalumba wines were available for attendees to taste through the reception, and the celebrated Yalumba Signature Cabernet Shiraz2004 was served over dinner.
"Yalumba has become one of the country's most progressive and successful wine producers", announced Wine Enthusiast. "For their forward-thinking, innovative leadership in the Australian wine industry and an unflagging commitment to quality and family ownership, Yalumba is Wine Enthusiast's New World Winery of the Year."
"I am incredibly proud of what we have achieved throughout our 160 years of family winemaking – so far, for we are still young," says Hill Smith. "With this experience we strive to behave as a leader in our industry, and hope to inspire others to be responsible and remain sustainable. We will never forget our motto of 'doing the little things brilliantly'."
The annual Wine Star Awards acknowledge excellence across all areas of the international wine and spirits industry, from region to supplier to distributor. Divided into ten award categories, the nominees are selected for their outstanding contribution to the world of wine and spirits. Along with Yalumba, the 2009 nominees honored were Gary Vaynerchuk, Best Cellars, Winebow, Mezzacorona Winery, Trinchero, Ted Baseler, the region of Valpolicella, Henrik's Gin, Scott McLeod and Harvey Chaplin.
YALUMBA INNOVATION & LEADERSHIP:
Established in 1849, Yalumba has remained both independent and progressive throughout the Hill Smith family's 160 years of ownership. Today, Yalumba is a thriving private wine company and recognised leader in innovation, quality and continuing experimentation. For Hill Smith, its success and survival is dependant on foresight, commitment to teamwork, and patience - with consensus - when evaluating innovation over profit.
With a dynamic VITI-VINI team led by Brian Walsh and Louisa Rose, there is effective planning to micro-manage individual vineyards and a will to preserve the old vines of Barossa. The establishment of an Old Vine Charter and Reserve Charter(since adopted by various other wine bodies) by Hill Smith and Walsh in 2007, the establishment of Australia's leading Vine Nursery in 1975, and its pioneering work with the rare grape variety Viognier since 1981, and more recent clonal work with Tempranillo and Vermentino.
YALUMBA HISTORY:
Yalumba was founded in 1849 by Samuel Smith, British migrant and English brewer, who had brought his family to Australia seeking a new life. After purchasing a 30-acre parcel of land in the Barossa region, just beyond the southern-eastern boundary of Angaston, Smith and his son began clearing it of native vegetation, planting the first vines by moonlight. Samuel named his patch "Yalumba" – an aboriginal word meaning "all the land around".
YALUMBA WINES:
The Yalumba wine portfolio commences with the fresh varietal wines of the Y Series, then moves up to capture the essence of the Barossa and Eden Valleys with the Barossa Eden range, explores old world varieties and single-site bottlings in the Hand Picked and Single-Site lines, and culminates with the Rare & Fine wines, including The Virgilius Viognier, The Octavius Barossa Old Vine Shiraz, The Signature Barossa Cabernet Shiraz, The Menzies Coonawarra Cabernet and The Reserve Barossa Cabernet Shiraz.
###