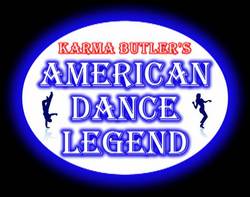 "Change your life, make a move, dance for the world." -Karma Butler [Creator/Executive Producer-"American Dance Legend"]
Chesapeake, VA (PRWEB) January 26, 2010
Dancers ages 14-26 who are USA citizens are invited to audition for the new television series, Karma Butler's American Dance Legend. Dance Karma Entertainment LLC is the producer of this television series and has been featured by American Broadcasting Channel, USA Today, and Sony. One-Hundred dancers will become television dance celebrities while being challenged to reach the height of their talents and requested to share their deepest emotions with the world. Karma Butler is the Creator and Executive Producer of American Dance Legend and is an internationally recognized Choreographer/Dancer, Recording Artist, and Entertainment Producer. Karma's dance education and credits include many notable dance celebrities including Hip-Hop superstar Wade Robson, and Janet Jackson Choreographers Tovaris Wilson and Gil Duldulao. Open call auditions for dancers will be held February 20, 2010 at Copeland Mills School of the Arts, 1457 Mount Pleasant Rd. Ste. 101B Chesapeake, VA 23322 and February 21, 2010 at Dynamic Movements, 3205-C Bridge Road Suffolk, VA 23435. Registration begins at 12pm at both locations.
All dancers cast in Season One are sure to receive exposure and featured spots on a major television network in Virginia through the four week broadcast of Karma Butler's American Dance Legend scheduled to broadcast early summer 2010. The full season will be packaged on DVD and released nationally. Endless television, internet, and media exposure are the fruitful rewards for top performers who win challenges on this television series. An exclusive dance television commercial and featured placement in a new music video for Sony featured recording artist, Karma Butler, are among the fruitful rewards for several winners of the dance challenges. One dancer will earn the prestigious title of being the "American Dance Legend." The winner of Karma Butler's American Dance Legend (Season 1) will be catapulted into the national spotlight of Entertainment Media and Dance industries and will win a prize package valued over $5,000. The winner of Karma Butler's American Dance Legend (Season 1) will receive gifts and support including; $1,000 cash, an exclusive meeting in New York City with the famous DDO Artists Agency for the opportunity to have dance agent representation for placement in television, music videos, film, and stage productions, a full packaged Dancer/Model Photography Shoot compliments of Abejon Photography, one year of free entrees from Texas Roadhouse, one year membership to One Life Fitness, a national press release sent to premiere newspapers, magazines, and on-line media publications featuring the winner of season 1, and other gifts.
The audition is meant for dancers who seek the opportunity to become recognized dance professionals. Dancers who audition for this television series should come prepared to spend a full day learning trendy dance moves and sharing personal life stories with the producers. Dancers of all backgrounds are encouraged to audition including styles: Gymnastic Tumblers, Hip-Hop, Jazz, Contemporary/Modern, Ballet, Break Dancers, and more. Dancers should arrive at the audition with one headshot/photo, two valid forms of I.D., and should have two required forms completely filled out. The two forms include a Release Form, and a Dancer Application, and are both available for printing online at the website listed below. Dancers under the age of 18 must have both required forms signed by a legal guardian. Dancers should come dressed to impress! Dancers should be sure to wear clothing that does not include visible designer logos, sports team logos, names, or any artwork subject to protection by copyright or trademark laws. In addition, clothing should not feature the likeness or name of a celebrity, living or dead. Large amounts of dancers from states all across America are expected to audition for this new television series so potential cast members of season one who want to audition are encouraged to visit http://www.dancekarma.com/americandancelegend.html for all official audition guidelines, required forms, and information.
Dance Karma Entertainment LLC and its sub-division Record Label, Hear Karmic Music, offers professional services in Entertainment Talent Direction, Education and Production for the industry to include Television, Film, Stage, Radio, and Music.
###