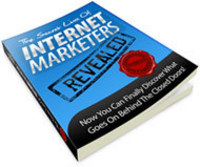 Secret Lives of Internet Marketers is the perfect success guide for anyone who has dreamed of making it big on the Internet, but hasn't yet seen those dreams come true
Pittsburgh, PA (PRWEB) January 27, 2010
EasyEbookRights.com, a distributer of popular business and marketing-related Ebooks, today announced they are temporarily giving away free copies of Secret Lives of Internet Marketers.
Formerly one of their best sellers, the book provides a rare look at the success secrets of seven of the Internet's top income earners.
"The Internet is big game of liar's poker where anyone can make wild claims about money making opportunities knowing it's unlikely many people will call their bluff," according to Jason Tarasi, owner of EasyEbookRights.com.
"But when it comes to real and verifiable money making ideas, the seven people in this eBook are the real deal", Mr. Tarasi added.
The book profiles the success stories of these seven well know Internet income earners:

Yanik Silver – Best selling Internet book author on ideas to make money.
Dr. Mani Sivasubramanian - Highly respected for his ability to make money online by turning prospects into lifetime customers
Alice Seba – A renown work-at-home mom with two children whose online money making ideas have provided for her family since 2002.
David Vallieres - Well known author of "You Can! Make Money Online!" and other numerous groundbreaking reports, videos and eBooks.
Paul Myers - Publisher of one of the Internet's most successful and longest running Ezine, TalkBiz.
Robert Puddy – Who built an online empire in the network marketing niche.
Sam Stephens – Software developer and netrepreneur who supplies best-selling tools to other marketers.
You won't find self-serving promotions and grand egos in this book. And it's not one big sales letter in disguise. Each of the masters of Internet marketing interviewed in this book come clean and share their triumphs and failures, as well as the tips, tricks and ideas they use every day to make money online.
"Secret Lives of Internet Marketers is the perfect success guide for anyone who has dreamed of making it big on the Internet, but hasn't yet seen those dreams come true," Mr. Tarasi commented.
"And the fact that this book is available for free means the barrier to learning from seven of the Internet's most successful marketers has been smashed," he added.
Anyone who is looking for a way to secure their financial future would do well to make reading Secret Lives of Internet Marketers their first step. Especially when they can do it for free.
Now for a limited time copies of Secret Lives of Internet Marketers are available for free download at http://easyebookrights.com/mmi.html
About EasyEbookRights.com
Celebrating its two year anniversary on January 28, 2010, EasyEbookRights.com provides free distribution rights to Internet marketers who want to leverage the power of eBooks to build their online business.
Email: editor(at)marketersprotection(dot)com
###