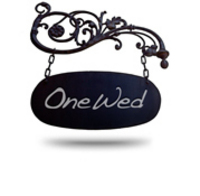 Our new relationships with GigMasters, VFM Leonardo and FlowerPetal elevate the wedding planning experience and provide couples with industry-leading resources at their fingertips.
Chicago, IL (PRWEB) January 27, 2010
OneWed.com, the ultimate online resource for wedding planning and home of WeddingPreParty.com, announced today three new featured service provider partnerships. The new partners include: GigMasters.com, the number one entertainment booking service; VFM Leonardo, the technology leader in online visual content management and distribution for the hotel industry; and Wedding by FlowerPetal, a specialty wedding flowers provider. These partnerships will provide engaged couples with a wealth of information, multimedia and purchasing convenience.
"OneWed strives to offer our brides the most comprehensive, state-of-the-art tools for planning their ultimate wedding," says OneWed VP of Marketing Jennifer Napier. "Our new relationships with GigMasters, VFM Leonardo and FlowerPetal elevate the wedding planning experience and provide couples with industry-leading resources at their fingertips."
The partnership with GigMasters.com will allow OneWed couples to search over 3,000 client-rated GigMasters wedding performers without leaving the OneWed site. When a couple books one of these performers, they are entitled to the GigMasters deposit guarantee, ensuring they will never lose a deposit paid on the GigMasters site. As another user benefit, GigMasters event specialists are available to help guide couples through the entire process of searching and booking their wedding entertainment.
"Now, OneWed brides will rest easy knowing that if the unthinkable happens and their entertainer cancels, their deposit is protected," says GigMasters co-founder Michael Caldwell. "We couldn't be happier about our partnership with OneWed."
OneWed has also teamed with VFM Leonardo, the largest online visual content distributor for hotels worldwide. OneWed couples will be able to view multimedia displays for 7,000 hotels nationwide listed on OneWed. The old-fashioned methods of researching venues can be eliminated with access to well-merchandised hotels that have photos, virtual tours and videos available within VFM Leonardo's embedded Multimedia Viewer directly on OneWed.com. Couples can appreciate the fact that a majority of the legwork can be done without leaving the comfort of home.
"We are glad to enhance the wedding venue research process for engaged couples. With access to photos, virtual tours and videos of hotels worldwide on OneWed, we are confident that couples are able to better visualize potential wedding venues and decide which should make their shortlists," states Paolo Boni, President and CEO, VFM Leonardo.
OneWed's collaboration with Wedding by FlowerPetal allows couples to address all of their floral needs, including bride and bridesmaid bouquets to match wedding dresses, centerpieces, corsages and boutonnieres—enabling couples to find the perfect wedding flowers and purchase directly from OneWed for direct hand delivery to their wedding venue. The offerings are tailored by color and style, running the gamut from classic to contemporary.
"Flowerpetal.com is very excited to launch its wedding boutique with OneWed.com. The boutique is designed for sophisticated brides looking for three things: value, convenience, and stylish design," says Flowerpetal.com President, Brian Crummy.
About OneWed
OneWed is the ultimate online source for the truth in wedding planning, providing couples with a wealth of tips, advice, and creative suggestions to help personalize their wedding experience. The site's newest platform, WeddingPreParty.com, is a virtual way for couples to start the celebration early and keep in contact with guests through a social wedding planning network. OneWed boasts the largest searchable directory of local wedding vendors with over 210,000 vendors nationwide with honest ratings and reviews. Additionally, the site features OneWed's Savvy Scoop Wedding Blog, online wedding checklist, free wedding websites and ideas for everything from engagement rings to wedding flowers to honeymoon planning. OneWed can be found online at OneWed.com, http://www.facebook.com/Wedding.Planning , and twitter.com/OneWed.
About GIGMASTERS
GigMasters.com© is the #1 online entertainment booking service, guiding party planners and hosts to the right entertainment for every event. With the Internet's largest nationwide database of client-rated performers for live music and variety entertainment, this Redding, CT-based business boasts a database of over 7,000 performers including live bands, wedding musicians, party DJs, impersonators, hypnotists, stand-up comedians, jazz trios, balloon twisters, bagpipers, string quartets, soloists and more. GigMasters.com has helped facilitate more than 80,000 bookings since its inception in 1997, including over 25,000 in 2009. The site, which was founded by Kevin Kinyon and Michael Caldwell, attracts 20,000 daily visitors*, throughout North America. GigMasters.com is a proud member of the Better Business Bureau, TRUSTe, and is also a VeriSign Secured website. For more information, please visit http://www.gigmasters.com .
About VFM Leonardo
VFM Leonardo is a technology leader in online visual content management and distribution for the hotel industry. VFM Leonardo's VScape® and VBrochure™ products leverage the distribution capabilities of the VNetwork™, the most universally accepted and largest online visual content distribution network for the global travel industry. VFM Leonardo offers the most effective digital asset management and online merchandising systems available today with over 1,000,000 visual images (photos, virtual tours and videos) for 90,000 hotels worldwide currently in distribution across the VNetwork. All four global distribution systems (GDSs) - Amadeus, Galileo, Sabre, Worldspan - as well as Pegasus source hotel visual content exclusively through VScape. Tens of thousands of travel-related channels including online travel agencies, travel research and supplier web sites, search portals; Travelocity, Orbitz, Priceline, Tripadvisor, Yahoo! Travel, Kayak, Google and more also source visual content through VScape, many exclusively. For more information about VFM Leonardo, visit http://www.vfmleonardo.com . Follow us on Twitter at @VFMLeonardo.
About Flower Petal
Flowerpetal.com offers integrated e-commerce solutions to provide local, professionally designed flowers for customers with discerning taste.
###