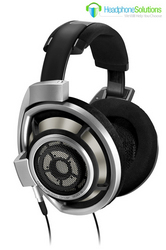 they seem to present everything JUST as it should be.
Celebration, FL (PRWEB) January 28, 2010
Headphone Solutions, one of the web's leading retailers of high end headphones and audio equipment, is giving away a pair of Sennheiser HD800 Headphones. Valued at $1,399.95, the HD800 combines comfort, design and clean, clear sound to produce a fantastic pair of circumaural stereo headphones. The HD800s use the largest transducers ever used in headphones to date and feature uncovered earcups for better listening acoustics. HeadphoneSolutions.com's user reviews agree: "The headphone offers a sense of effortlessness, texture and bass depth that's amazing," says Antonino. Fraser from New Zealand comments that "they seem to present everything JUST as it should be."
Winning a pair of Sennheiser headphones is easy. Create an account at HeadphoneSolutions.com and submit a product review for any product in our store that you own or have tested. Entrants can review as many products as they like, but can only submit one review per product. The most informative, concise and well-written review (preferably no longer than 25cm) will be selected as the winner by our staff judges at the end of the contest.
Entrants who are not selected as the winner will still earn points in Headphone Solutions' Reward Program. Members gain points with every review and every purchase and earn gift certificates to HeadphoneSolutions.com.
The final day for entries in the Sennheiser HD800 giveaway is April 10, 2010. The winner will be announced on April 28, 2010.
About HeadphoneSolutions.com:
Headphone Solutions, a division of FMA Solutions, is an authorized dealer for high-end headphones from Sennheiser, Grado, Denon, AKG, Ultrasone and Beats by Dr. Dre, as well as a wide range of headphone accessories.
About FMA Solutions:
Founded in 1995 in Orlando, Florida, FMA Solutions is an authorized dealer for more than 30 audio equipment manufacturers, and is the largest authorized Westone dealer in the United States. FMA Solutions is committed to quality customer service and encourages customer contact by phone, email. You can also find us @FMAsolutions on Twitter or on Facebook. Visit our YouTube channel for product videos.
Contact:
Flavio T.
FMA Solutions
1-888-473-9661
http://www.HeadphoneSolutions.com
# # #