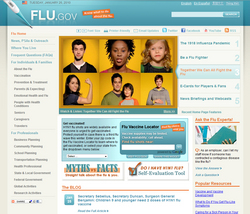 Flu.gov was pulled together very quickly, looks fantastic, and uses cutting-edge technology to support Flu.gov and HHS' mission," said Joe Wykes, President of Percussion.
Boston, MA (PRWEB) January 26, 2010
Percussion Software, a leading provider of Web Content Management (WCM) products empowering businesses to better interact with customers, today announced that the U.S. Department of Health and Human Services (HHS) is using Percussion CM System to power Flu.gov and encourage public participation in combating the H1N1 virus.
"Flu.gov is a one-stop clearinghouse for the latest news about the flu," said HHS Secretary Kathleen Sebelius. "These new resources on flu.gov will help individuals get critical information on how to protect themselves and their families from the H1N1 virus. They will also help us to get accurate information out into the public realm so people know what the facts are about the flu."
The social and interactive features rolled out onto Flu.gov include:

Shareable widgets allowing visitors to display Flu.gov content directly on their own personalized home pages, blogs, and other sites. After embedding the widget using the code provided, no maintenance is necessary. Flu.gov and the CDC can update the content automatically. These include Flu Vaccination Locator widgets, an H1N1 Interactive Map widget, and a Flu.gov News Widget.
RSS feeds making it easy for visitors to stay updated on ongoing news regarding the H1N1 outbreak and seasonal flu.
Delivery of mobile content directly to visitors' mobile phones.
A Flu.gov Blog, featuring frequent posts and updates from HHS officials, including Sebelius.
An interactive application for H1N1 Flu Self-Evaluation
To address the nature of pandemic flu and recent outbreaks, HHS needed a way to consolidate data with the Center for Disease Control to rapidly update the website with new information while empowering visitors to share its content.
The answer was Percussion's Community Marketing Solution. The Department populated the Flu.gov website with useful and relevant content on a very short timeframe by leveraging Percussion's feed importer – a feature provided by Community Marketing - to pull in live content from the CDC website. Non-technical users were able to configure the importer to harvest unstructured web content from the CDC, apply formatting to it, and reuse it on Flu.gov. An automated process ensures that once a piece of content from an external site has been loaded into the system, it will be kept up to date, reflecting any updates made on the third-party site. Because content syndicated to third-party sites via widgets and feeds is automatically updated as well, the solution provided HHS with the ability to update the content on thousands of sites from one place.
"We're thrilled that HHS is using Percussion for Flu.gov, and that it's helping provide the public with accurate official information on the Flu and the means to share that information. The site was pulled together very quickly, looks fantastic, and uses cutting-edge technology to support Flu.gov and HHS' mission," said Joe Wykes, President of Percussion.
About Flu.gov
Flu.gov provides comprehensive government-wide information on seasonal, H1N1 (swine), H5N1 (bird) and pandemic influenza for the general public, health and emergency preparedness professionals, policy makers, government and business leaders, school systems, and local communities.
About The U.S. Department of Health and Human Services
The Department of Health and Human Services (HHS) is the United States government's principal agency for protecting the health of all Americans and providing essential human services, especially for those who are least able to help themselves. More information is available at http://www.hhs.gov
About Percussion Software
Percussion provides Web Content Management (WCM) solutions that drive business results through multiple online channels including websites, intranets, blogs, and mobile devices. Percussion's Adaptive Architecture allows non-technical users to take control of content and presentation, provides a low-friction path to access and re-use third-party content, and allows a business to pursue new opportunities without being encumbered by legacy technology. Percussion has been helping a broad cross-section of corporations, institutions, and agencies generate online results, including Hotwire.com, Virginia Tech University, Kohl's, Computer Associates, AutoTrader.com, and the U.S. Department of State. More information can be found at percussion.com
###