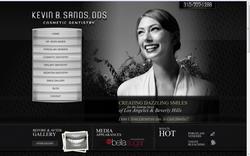 Beverly Hills, CA (Vocus) January 27, 2010
In only a few short years, social media sites such as Facebook and Twitter have become some of the most popular websites on the Internet. These sites have been embraced by individuals both young and old as ways to stay connected and up-to-date on what's going on in the world around them. As businesses have begun to use social media to enhance their online presence, the Beverly Hills cosmetic dentistry practice of Dr. Kevin Sands has also been embracing this emerging trend. Dr. Sands has established a presence on YouTube, Facebook, and Twitter to engage with his patients and those interested in cosmetic dentistry in meaningful and dynamic ways.
Offering procedures such as porcelain veneers and dental implants in Beverly Hills, Dr. Sands has built a successful practice and has helped many patients transform their smiles. Now, by using social media to provide information about his treatments, Dr. Sands hopes to give people an inside look at what it's like to receive care at his practice.
By logging onto Dr. Sands' Facebook page, users will find before-and-after photos, links to teeth whitening tips, and other resources all at their fingertips. A photo gallery is included of Dr. Sands' celebrity clients, including Britney Spears, Taylor Swift, Carmen Electra, and Hillary Duff. In the video section, a clip is posted of Dr. Sands' appearance on E!'s That Morning Show. Dr. Sands hopes that patients both new and old will take advantage of Facebook's interactive capabilities to leave their questions or comments.
In addition to Facebook, Dr Sands' Beverly Hills porcelain veneers and cosmetic dentistry practice can be found on Twitter and YouTube. Several video testimonials can be viewed on YouTube, with patients describing their treatments and results. "Tweets" are posted on the popular microblogging site Twitter by Dr. Sands or his staff to share practice news and updates.
With all of these Web 2.0 tools, Dr. Sands hopes to provide his patients with a fun, informative, and easily accessible look into all that his practice has to offer.
About Dr. Sands
A cosmetic and implant dentist in Beverly Hills, Dr. Kevin Sands provides advanced treatments for healthy, beautiful smiles. He is a graduate of the prestigious USC School of Dentistry and completed additional training at the renowned Las Vegas Institute for Advanced Dental Studies.
Dr. Sands has been featured in numerous national magazines including People and Us Weekly. He has also been featured on the TV programs Dr. 90210 on the E! network and Ten Years Younger on TLC.
Dr. Kevin Sands' cosmetic dentistry practice is located in Beverly Hills at 414 North Camden Drive, Suite 940. The telephone number for the practice 310-707-1288. Dr. Sands can also be contacted via website at http://www.beverlyhillscosmeticdentist.com.
###