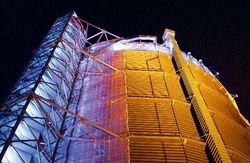 Ruhr 2010, the European Capital of Culture
Düsseldorf, Germany (Vocus) January 27, 2010
The inside of a 380-foot tall obsolete gas holder, the Gasometer in Oberhausen, is the space for a new exhibit called "Out Of This World - Wonders of The Solar System." It includes the largest moon sculpture in the world -- an 82-foot wide replica of the moon hanging in a cathedral-like space under the holder's 328-foot roof, as well as replicas of the sun and its planets in a space 223 feet wide. The exhibit explores scientific, cultural and artistic perspectives on the creation and death of our solar system in the vast dimensions of the cosmos.
The true-to-scale moon sculpture is based on high-resolution satellite images of the moon and is shown, as are all other stars and planets, in elaborate detail as along with its various phases and light phenomena. The vastness of the exhibit venue echoes the vastness of outer space, and ethereal music adds to the exhibit experience.
The exhibit, open through December 30, 2010, is one project of "Ruhr 2010, the European Capital of Culture" – a year-long series of art events and exhibits in Germany's Rhine Ruhr area, a metropolitan region with a dense concentration of cities and a population of 11.5 million, with Düsseldorf and Düsseldorf International Airport at its center.
Direct flights to Düsseldorf International Airport (DUS) from the US are available from Atlanta, Chicago, Ft. Myers, Los Angeles, Miami, New York (JFK and Newark), and San Francisco. Oberhausen and the Gasometer are about 20 minutes by train and car from Düsseldorf, and trains are available from train stations at DUS and Düsseldorf city center.
Find more exhibit information about the exhibit and the Gasometer at http://www.ruhr2010.de. For more information about Düsseldorf and Duesseldorf International Airport, please contact: Rainer Perry, 934 8th Avenue 2b, New York, NY 10019, phone: 212 957 6653, fax: 646 419 4070, email: perry.r@duesseldorf-tourismus.de.
Düsseldorf, only a short distance from many major destinations, makes possible easy travel to the Rhine-Ruhr area, Cologne, Belgium, and the Netherlands, as well as many opportunities for short and long-term stays. Düsseldorf International Airport, Germany's third largest, offers several non-stop flights from US cities, as well as convenient connections to many European cities and beyond.
Düsseldorf Tourism & Marketing GmbH is the visitors and convention bureau of the city of Düsseldorf. Its services include tourism and city marketing, conference and meeting marketing, hotel reservation services, fairs and convention services, city event ticket sales and advance ticket reservations. For more information, visit http://www.duesseldorf-tourismus.de or http://www.visitduesseldorf.de, and http://www.fly2dus.com.
###