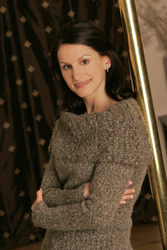 "It will be interesting to see if pole dancing moves from the discotheque scene to the dance studio setting in Latin America," states Huett.
Denver, CO (PRWEB) January 28, 2010
"Pole dancing, as an art form and practice, is an integrated movement that is comprised of ballet alignment, modern and jazz sequences, belly dance hip work, tango footwork, and pirouettes, climbs, and other acrobatic maneuvers using the pole as a dance 'prop' or stable 'partner,'" states Huett. It may have roots in 1940s circus performing, but similar to what happened to elevate circus acrobatics to incredible feats watched in "Cirque du Soleil," formally trained dancers and gymnasts have taken hold and refined the dance accordingly.
Pole dancing has become a popular fitness trend in the U.S.A. for nearly a decade. Some studios, like Huett's, teach this movement in a fashion similar to the instruction and study of other dance forms: regular practice, adagio versus allegro combinations, reliance on proprioception, and progressive conditioning.
Pole dancing, as a sport and activity, has also become popular in Canada, England, Europe, Russia, Asia, and Australia. International organizations, such as the International Pole Dance Fitness Association, have assembled to standardize training methods, vocabulary, and judging protocols for competitions. There has even been a push to include pole dancing in the 2012 Olympics.
Pole dancing is last to reach countries in Central and South America. Following an informal performance at one of the discotheques of Puerto Vallarta, Mexico this past December, Denver based studio owner and instructor, Lori Huett, was approached by two club owners to teach 25-30 concert and event dancers how to climb, pirouette, and maneuver "le Cirque" style moves on the poles.
What may come as a surprise to North Americans who have not traveled to the coasts of Mexico or Central America is the affluence of some of the coastal and capital cities where entrepreneurs are competing to build the most luxurious hotels, clubs, and casinos. Frequented by tourists and locals who seek to wine, dine, and dance into late hours of the night, myriad posh discotheques have cropped up along the coastal cities of Puerto Vallarta and metropolitan scenes of Panama City, Panama.
Lori Huett is scheduled to teach in Calle Uruguay, Panama City March 7-9 and in Nuevo Vallarta, Mexico July 6-8. Although not in a dance studio setting, Huett believes that pole dancing will first become popular as practiced by 'Go-Go' and other Burlesque-style dancers performing in upscale nightclubs. "It will be interesting to see if pole dancing moves from the discotheque scene to the dance studio setting in Latin America," states Huett. Given certain cultures seem less obsessed with weight-loss and body sculpting than we are here in the U.S.A., and dancing seems to be something one often does with a partner (e.g., Salsa, Samba), it will be fascinating to see if pole dancing becomes a popular fitness activity in Central America.
###