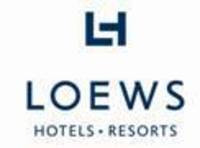 New York, NY (Vocus) January 28, 2010
By simply showing their card, AAA members can enjoy a 10 percent discount off Loews Best Rate at all 18 Loews Hotels properties any day of the week. In addition, AAA members who book the AAA Leisure package with a weekend stay of two nights or more will receive a $50 food and beverage credit. For more information or to book the AAA Leisure package, call 1-800-23-LOEWS or visit http://www.loewshotels.com. AAA Leisure package is available now through December 31, 2010.
For additional savings, AAA members can join Loews YouFirst program to receive instant upgrades, late checkout and more. Available at Loews' 18 hotels and resorts, YouFirst rewards guests based on their number of stays with the following structure: Member – 0-1 stays; Blue – 2-4 stays; Gold – 5-9 stays and Platinum – 10+ stays. As soon as a member qualifies for a certain status, they will receive those benefits for the next 12 months unless they progress to another level of membership. Benefits include American Express Membership Rewards® points and partner discounts for all member categories; free room upgrades, late checkout, guaranteed availability, free access to property fitness centers, and free internet for Blue through Platinum members; VIP on-property amenities for Gold and Platinum members.
All YouFirst members are eligible for Loews Hotels exclusive partner discounts including 20 % off Fisher Price online orders of $75 or more, 30% off Fiji water home delivery, and 30% off Keurig home coffee brewers among others.
Headquartered in New York City, Loews Hotels owns and/or operates 18 hotels and resorts in the U.S. and Canada. Located in major city centers and resort destinations from coast to coast, the Loews portfolio features one-of-a-kind properties that go beyond Four Diamond standards to delight guests with a supremely comfortable, uniquely local and vibrant travel experience. Loews boasts some of the industry's most innovative and successful travel programs, including Loews Loves Kids for families and Loews Loves Pets for discerning animals on the road. For reservations or more information on Loews Hotels, call 1-800-23-LOEWS or check http://www.loewshotels.com.
Follow Loews Hotels on Twitter at http://twitter.com/Loews_Hotels.
Fan us on Facebook at http://facebook.com/LoewsHotels.
Contact:
Emily Goldfischer
Loews Hotels
212-521-2833
egoldfischer(at)loewshotels(dot)com
Michelle Colligan
Redpoint Marketing PR, Inc.
212-229-0119
colligan(at)redpointpr(dot)com
###