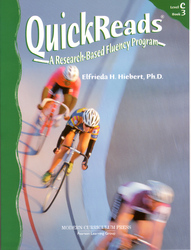 A huge advantage of QuickReads is that the passages are tied to social studies and science content standards.
Santa Cruz, CA (PRWEB) January 28, 2010
Dr. Elfrieda (Freddy) Hiebert, internationally recognized educator and founder of TextProject.org, and developer of the QuickReads literacy tool series, helps educators and parents bring beginning and struggling readers to high levels of literacy through reading strategies and reading activities. And her newest book, Reading More, Reading Better (2009), is a passionate plea for increasing the amount that students read in school, especially of informational content.
On the report card of U.S. education (the National Assessment of Educational Progress), two-thirds of students fail to achieve the "proficient standard" — the goal for all students. Dr. Hiebert's studies of classrooms and textbooks have shown that many students spend a lot of time doing practice exercises of reading skills, but they don't apply these skills enough so that they become experts at reading comprehension.
Dr. Hiebert shares, "Learning about the English writing system is absolutely essential for becoming a good reader. But reading well also depends on reading a lot."
The most frequent messages about reading focus on the amount that children read at home and the amount their parents read with them. Reading outside of the classroom is critical. But, as Dr. Hiebert observes, "For many students, exposure to reading occurs only in school. If they are not given substantial opportunities to read at school, many children are unlikely to develop proficient reading skills and comprehension."
The solution, Dr. Hiebert has proposed, is to have texts that simultaneously help students' word recognition vocabularies grow and communicate information that interests students such as why it snows or how bees communicate. That is why Dr. Hiebert has created a series of literacy tools called QuickReads; they provide precisely this combination of reading skills and content. These texts have proven effective in increasing literacy, especially that of students who have fallen behind their peers in reading.
A huge advantage of QuickReads is that the passages are tied to social studies and science content standards—this means that not only are students learning about reading and becoming better readers, but they are also gaining more world knowledge that allows them to understand more complex texts.
Julie Petersen, former reading specialist in the Irvine Unified School District and, currently, CEO of http://www.TWRCtank.com.
Dr. Hiebert is currently in the Graduate School of Education at the University of California, Berkeley. Previously, she was on the faculty at the University of Michigan where she founded the Center for the Improvement of Early Reading Achievement (CIERA) funded by the U.S. Department of Education. In addition to Reading Better, Reading More, she has published 11 books and over 130 articles and book chapters. In 2008, Dr. Hiebert was awarded the William S. Gray Citation of Merit from the International Reading Association—the highest commendation for a lifetime achievement in research from the largest organization of reading educators in the world.
For media inquiries or speaking engagement inquiries, please contact Elfrieda H. Hiebert at: 1-831-458-2711, or visit http://www.textproject.org.
# # #