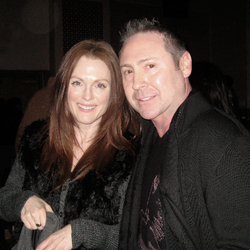 Lisa delivered a wildly entertaining and important film, one we are very proud to be part of
Los Angeles, CA (PRWEB) January 29, 2010
Director Lisa Cholodenko's The Kids Are All Right premiered at the Sundance Film Festival on January 25, 2010 to overwhelmingly positive reviews, resulting in the festival's most visible bidding war. Rumored suitors included Fox Searchlight, Sony Pictures Classics, The Weinstein Company, and Summit Entertainment; however, Focus Features (the specialty film unit of Universal Pictures) confirmed on Thursday that they had picked up distribution rights for the United States, the United Kingdom, South Africa, and Germany.
The film stars three-time Academy Award nominee Annette Bening, four-time Academy Award nominee Julianne Moore, Mia Wasikowska (starring in the upcoming Alice in Wonderland), Josh Hutcherson (starring in the upcoming Red Dawn), and Mark Ruffalo (starring in the upcoming Shutter Island).
Artist International, a wholly-owned subsidiary of Hollywood Studios International, was a production company for The Kids Are All Right, with HSI CEO Steven Saxton serving as an Executive Producer. Artist International Managing Director Joel Newton was on the project as a Co-Producer.
"Lisa delivered a wildly entertaining and important film, one we are very proud to be part of," commented Saxton.
"The Kids Are All Right fits perfectly in our mission to make films that succeed both artistically and commercially," said Joel Newton.
In a written statement, Focus Features' James Schamus said:
"Lisa has made an extraordinary gem of a film that combines comedic surprise with poignant emotional truth. Not only is The Kids Are All Right infectiously funny and touching, but it's also entirely accessible. We're confident that audiences everywhere will fall in love with this family, as brilliantly brought to life by a remarkable cast of actors."
Positive Reviews
Positive reviews continue to pour in from a number of media sources about The Kids Are All Right.
Here are just a few of the great reviews already written about the film:

The Hollywood Reporter said "Sundance 2010 has been waiting for a breakout hit…it finally happened" and that the film was "much more than alright"
New York Magazine wrote "Annette Bening and Julianne Moore Wow the Fest"
The Wall Street Journal called the film a "heart-warming look at modern families"
The Los Angeles Times wrote the film "becomes a Sundance sensation"
Indie Wire said the film "shines at Sundance"
Screen Daily International said the film is "a consistently amusing delight"
Daily Variety called The Kids Are All Right one of Sundance's "hottest acquisition titles."
About Artist International
Artist International is a management/production company with offices in Beverly Hills and New York. The company provides professional representation to actors, writers, directors, athletes, music performers, artists, and other entertainment properties. Its four divisions -- music, literary, sports, and talent -- operate with the singular focus of understanding the goals, passions and talents of clients and maximizing their potential. As a wholly owned subsidiary of Hollywood Studios International, Artist International is positioned to partner with artists to bring new content to life, whether by internal means or external partnerships.
About Hollywood Studios International
Hollywood Studios International (HYWS) is a privately held entertainment holding company focused on the intelligent deployment of capital in the entertainment industry. The company has developed a portfolio of fee-based businesses ranging from talent representation to international distribution. Following the current round of private funding, the Company intends to file with the SEC to be a publicly traded company.
Forward-Looking Statements
This press release may contain certain forward-looking statements within the meaning of Section 27A of the Securities Act of 1933, as amended, and Section 21E of the Securities Exchange Act of 1934, as amended. Investors are cautioned that all forward-looking statements involve risks and uncertainties. Although Hollywood Studios International believes that the assumptions underlying the forward-looking statements contained herein are reasonable, any assumption could be inaccurate, and therefore, there can be no assurance that the forward-looking statements included in this press release will prove to be accurate. In light of the significant uncertainties inherent in the forward-looking statements included herein, the inclusion should not be regarded as a representation by the Company or any other person that the objective and plans of the Company will be achieved.
###