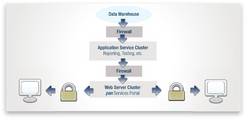 Agility Consulting provides the highest quality services with thorough planning, asssessment, and follow-up work -- Zenglo Chen, Leadership & Organizational Development, Lenovo
Greensboro, NC (PRWEB) February 18, 2010
Through a new partnership with pan, Agility Consulting is introducing a new capability for Chief Learning Officers to deliver their organization's brand for current and future employees in a very agile way that has never been available until now. Chief Learning Officers are charged with identifying critical competencies and measuring their potential, and presence, within their company's workforce. The delivery of carefully selected assessments for calibrating an organization's strengths and development needs is now made possible through a Private Label process for online assessment. Through the partnership with pan, Agility Consulting's Private Label process, assessments for selection, development, team development and organizational development are now delivered in a focused, fast and flexible way.
While typically test publishers only offer the assessments that they publish, pan offers approximately 250 assessments from all the major publishers of human resource-related tests and assessments. pan, a TALX company, is the leading provider of online assessments from more than 50 major publishers. pan sets high standards for the assessments that it provides and only selects those for its catalog that meet American Psychological Association and EEOC guidelines and are among the "best-in-class" for their intended purpose. pan's online testing platform is state-of-the-art, highly secure and user friendly. TALX, a provider of Equifax Workforce Solutions, is a leader in human resource and payroll-related services, based in St. Louis. TALX provides over 9,000 clients, including three-fourths of Fortune 500 companies, with Web-based services focused in three employment-related areas: hiring, pay reporting, and compliance.
Agility Consulting will have access to pan's full range of assessments, assessment-related human capital consulting and technical support capabilities while maintaining the client relationship. In addition, Agility Consulting will work with its clients to have their own branded private label assessment service. Agility will support its clients in selecting the appropriate mix of assessments, tests and surveys for inclusion on their pan hosted and secure website (including their own proprietary assessments).
###