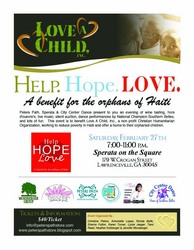 Christine's enthusiasm is contagious.She has a way of making everyone want to be a part of something bigger than themselves.
Lawrenceville, GA (PRWEB) February 3, 2010
In the wake of last month's tragic earthquake, Christine Crowley Peters, President of Peters Path Store, an online women's boutique, which opened it's first location in Historic Lawrenceville last fall, has spearheaded a fundraiser to help the children of Haiti.
"Help.Hope.Love." A benefit for the orphans of Haiti, will be held on February 27, 7-11 at Sperata's in Lawrenceville. It will be a wine tasting, hors d'oeuvres extravaganza, with live music and dancing from the National Champion Southern Belles dance team. Proceeds from the ticket sales and live & silent auction will go to "Love A Child," a children's orphanage in Haiti. Other key sponsors for the event are redevelopment specialist, Emory Morsberger and Heather Kohberger, owner of Clogging Connection at City Center Dance.
While Peters' boutique already donates a percentage of their sales to various charities, throwing a fundraiser is new to her. "When I first heard the story break about Haiti, it was absolutely horrific to me," explains Peters. "I knew I wanted to help somehow, but wasn't able to find any local way that I could get involved in at that time. I thought if I can't find one to be a part of, I'll create one myself. I've never planned a fundraiser or event like this, but told myself I'd figure out how."
Not being one to wait for things to happen, Peters called for a 10 a.m. meeting at her boutique the next day. In attendance and joining on as organizers were entrepreneurial women Antoinette Lopes, Sharna Fulton, Karen Turner, Lizzie Jaeger, Tami Reed, Heather Kohberger and Jennifer Morsberger. "It's incredible how everyone pitched in so quickly to make things happen -- from getting the word out to selling tickets to obtaining items for the auction," says Peters. Then again, ask Lizzie Jaeger, a personal fitness trainer about why she got involved "Christine's enthusiasm is contagious. She has a way of making everyone want to be a part of something bigger than themselves."
When asked why the fundraiser was for Haiti's children, Peters responded adamantly "Why not! I'm sad when I think about children not having a family to come home to, hug, cook with, sit next to and know they are loved unconditionally,every child in the world deserves this stability" explains Peters. "By witnessing firsthand the incredible work done in an orphanage,by taking mission trips myself to an orphanage in Mexico for 3 years, It motivates me to help any orphanage, in any way I can."
Tickets to HelpHopeLove are $40.00 each and are available at http://www.peterspathstore.com For more information, you can also visit the event's blog @ http://helphopelovebenefit.blogspot.com/.
Peters Path Store (PPS) is an online and new brick and mortar chic boutique in Lawrenceville, GA aiming to make the world a better place. PPS is more than a shop for women's latest hot and unique fashions, organic clothing, accessories,gifts, and home goods. The company promotes socially responsible shopping and creates awareness for causes such as "Love A Child."
Love A Child is a 501(c)(3) non-profit Christian Humanitarian Organization and a Private Voluntary Organization (PVO). Love A Child is a member of the Evangelical Council of Financial Accountability (ECFA), which has the highest standards of accountability for non-profits. They also have the Independent Charities of America (ICA) "Best in America" Seal of Approval. Love A Child is working to reduce the poverty in Haiti.
For more information, please email Christine Crowley Peters or call 770-329-4975
###