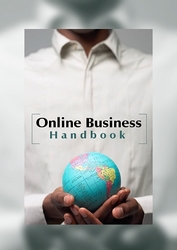 Online Business can be so easy... If you know what you are doing.
(PRWEB) February 18, 2010
In general, the online business industry has become very easy to break into because of the recent improvements in internet technology, but its growth has been stunted by the lack of suitable educational literature to help entrepreneurs stand out from the hobbyists and make their businesses profitable.
A business training company, Startup Alive, has decided to tackle the problem head on by providing an easy to use guide for online businesses -- the 'Online Business Handbook'.
The CEO of Startup Alive said, "The aim of this book is to help bring people 'out of the dark' and equip them with the skills they need to start and successfully run their own online businesses."
The book was written in 10 chapters, split across four parts, each teaching a specific skill that every online business owner should posses.
Since its release early this year, the 'Online Business Handbook' continues to rise in popularity as more and more entrepreneurs discover its usefulness.
Startup Alive also offers free business consultation services to aspiring entrepreneurs and online business owners.
A free sample chapter of the Online Business Handbook is available at http://www.startupalive.com.
###