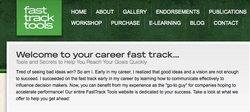 This workshop will help you understand how to communicate your ideas clearly. --John Debord, Sales Director, Grainger
Los Angeles, CA (PRWEB) February 1, 2010
Today's economy requires that professionals bring their A-game to be successful. Good ideas and a great vision are not enough. Winners need an authoritative, convincing, articulate presentation. In response, Fast Track Tools, a company founded by 15-year sales veteran and go-to communication expert Ken Revenaugh, has launched a unique, interactive, career-boosting, online workshop that provides practical, actionable information and resources for early-career and experienced professionals alike. Not available anywhere else online, "Communicate to Win" benefits those wishing to sharpen their skills to avoid a pink slip and offers job seekers the necessary tools to help improve their communication abilities.
We've all known people who always seem to have all the answers. The people who earn promotions, capture everyone's attention – things always seem to go their way. Why? Most likely because they know how to tell their story persuasively. Communicating well is a lynch pin to success. Founder Ken Revenaugh notes, "Those who know how to identify a problem, articulate a strong solution and convey their messages to colleagues, clients and superiors will propel their careers forward and become known as go-to experts. Fast Track Tools provides resources for professionals to be sure their ideas are heard and that they are recognized as valuable contributors in any environment."
For the first time, all Fast Track Tools and resources are available at the newly designed website: http://www.fasttracktools.com, which includes a blog from the creator and frequently updated content. Fast Track Tools also shares information via Twitter http://www.twitter.com/fasttracktools.
Communicate to Win
The new online "Communicate to Win" workshop is no boring audio recording. It is a high-impact, interactive, multi-media experience. Participants, who complete the six-hour program at their own pace, receive all of the workshop and learning activities from the live, two-day workshop, which normally costs $2000 or more. The workshop:

Is packed with the most recent research, inside information, tips and tricks.
Teaches how to launch innovative ideas to influence others.
Gives users the power to have instant impact and to see immediate results.
Participants learn how to:

Identify and define problems and win the right to present solutions.
Solve problems by leveraging the most current tools and strategic thinking.
Structure information to impact others with well thought-out ideas that support and strengthen key positions.
Prepare compelling presentations using world-class visuals that impress audiences and make ideas come alive.
Use templates for quick PowerPoint decks that allow them to give professional, high-impact presentations.
Participants receive:
The complete, easy-to-use, self-paced, downloadable program designed for a relaxed learning experience that runs on any PC or Mac.
Interactive workshop that compares to live workshops costing $2,000/day and up.
In-depth workbook.
Slide library with over 500 slides of content available to customize for compelling presentations.
Business case library for future reference.
Ready-to-use PowerPoint templates for slide and business case libraries.
All of the above is available for the special low price of $179, but individual tools used in the workshop are available starting as low as $29.
What clients and participants say...
"The tools and processes are best in class...everything from executive presentations to client reviews improved. -- John McDonald, President and COO, Service Brands International
"Ken offers a clear and effective approach with practical and very useful guidelines."
-- Leigh Segall, VP Marketing, SAVO Group
"This workshop gave our team the skills to concisely articulate issues with specific and actionable recommendations that can be easily prioritized. I'd recommend this program to anyone interested in being more successful in their business." -- Bill Doolittle, Chief Sales Officer, Exhibitgroup Giltspur
"For me, this course was a powerfully life-changing experience. I have the confidence to pitch my ideas and make things happen."
"I learned how to organize my thoughts, and the rest was easy. Thanks to you, I can approach the CEO and he wants to hear about my initiatives."
Company History
Ken Revenaugh, a leader with an impressive record of teaching professionals how to communicate to win, founded Fast Track Tools in July 2005. He developed and refined the Fast Track Tools curriculum over the course of 15 years via hundreds of presentations at leading organizations around the world. Live "Communicate to Win" workshops continue to be in high demand and are presented around the country by a team of trained professionals who are members of the highly regarded WOW Alliance.
Summary
Fast Track Tools provides exactly what today's successful professional needs to succeed in this competitive market. For more information, please visit http://www.fasttracktools.com.
Media Contact:
Miriam Salpeter
miriam(at)fasttracktools(dot)com
###