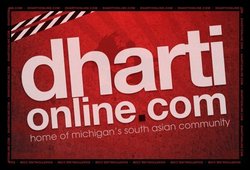 Breaking news from India and Pakistan, amazing travel deals, free advertising, Bollywood movie show times and trailers, Job search, buying, selling or renting a house, Desi Wedding resources, Desi restaurants,& grocery stores and much more...
Canton, MI (PRWEB) February 1, 2010
Indian and Pakistanis living in Michigan, are the focus of this user friendly one-stop shop website, where users may shop, post ads, search for local Bollywood movies, find weekly domestic and international travel deals, locate real estate properties and everything else needed on a daily basis.
In addition, DhartiOnline is an affiliate of SimplyHired and Indeed, the world's leading "job aggregators. This partnership allows users to search through job postings on literally thousands of websites at one time. Sites like CareerBuilder, Monster, hotjobs, niche sites like DICE and various employers submit their job postings to Indeed and SimplyHired for inclusion. Search millions of jobs from thousands of job boards, newspapers, classifieds and company websites in one website.
In Free Ads & Yellow pages Section, just like Craig's List, you can post your ads yourself. In addition to this, you can also advertise your business for free either in free ads section or free Yellow Pages section of the website - You can post your business ads the way you want yourself, at no cost at all.
Dhartionline's targeted advertising opportunities which gives local businesses looking to tap into the Indian and Pakistani buying power, an avenue to reach the community. Hosting a special section for Professionals such as physicians, attorneys, dentists, financial planners and realtors, users will find unique opportunities to showcase their businesses and services.
DhartiOnline's Community Resource section provides everything on your fingertips in one place…..Breaking news from India and Pakistan to amazing travel deals, free advertising to targeted audience, Bollywood movie show times and trailers, Job search, buying, selling or renting a house or apartment, Wedding resources, local Desi restaurants & grocery stores, visa and passport forms and lots of other resources.
In travel section, you will find amazing travel deals to India & Pakistan or you can search fares for specific dates yourself. Using Kayak, world leading search aggregator, DhartiOnline brings to you the cheapest fares available to India & Pakistan. Try it once and you will never go to a travel agent again. Picking someone from the airport? Track the flight before you leave home. DhartiOnline provides you real time flight tracking with exact time of arrival. Find car rentals, airport parking, airport information, online check-in, airline phone numbers, currency conversion, driving directions, all at one place.
dhartionline.com offers many benefits and features lacking by other local community websites. With plans to expand in the near future, dhartionline.com will offer other benefits such as helpful sections on immigration, education and health to name a few.
Visit http://www.dhartionline.com for more details.
Home of Michigan's South Asian Community
###