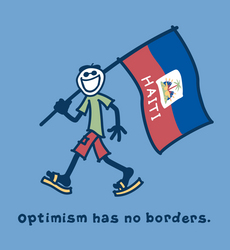 "Our customers are optimists, and optimism fuels action," said Life is good co-founder Bert Jacobs.
Boston, MA (PRWEB) February 16, 2010
Life is good® has launched a national fundraising effort for children devastated by the recent earthquake in Haiti. The popular lifestyle and apparel brand has designed fundraising t-shirts featuring its smiling icon, Jake, proudly carrying a Haitian flag with the slogan "Optimism has no borders." The t-shirts, for both adults and children, are available for purchase online and in participating stores across the country. Life is good will donate 100% of its profits from the sale of the shirts to relief efforts targeting Haiti's children via the Life is good Kids Foundation.
"We were watching the news on television and feeling helpless just like everybody else," said Life is good co-founder Bert Jacobs. "But we've learned along the way that we can use our brand to bring people together and rally them for great causes. Our customers are optimists, and optimism fuels action."
As aid workers and officials have made clear, the rebuilding in Haiti requires major, long-term efforts that will far outlast the initial emergency relief efforts. Children 14 years and younger comprise more than 38% of Haiti's population and have been disproportionally impacted by the tragedy. In addition to the healing of physical injuries, the crippling wounds of trauma must be addressed in these children as well, many of whom have lost parents and whole families, swelling a population of 338,000 children already displaced and living in shelters prior to the earthquake. The funded relief efforts will grow out of the Life is good Kids Foundation's focus and expertise in healing and strengthening childhood trauma. Its staff includes experts in early childhood trauma who are in the process of identifying the right collaborations on the ground in Haiti to help traumatized children and their caregivers in a sustainable way.
In addition to the longer-term relief needs that Life is good will address with funds raised from sales of its Haiti t-shirts, the company responded to the more immediate emergency needs identified by relief agencies in the days following the earthquake. One such vital need was for safe, clean hydration containers. In response, Life is good shipped a donation of 4,000 water bottles via Americares.
Life is good's Haitian initiative is the latest in a tradition of raising funds through t-shirt sales that began with the company's response to the terrorist attacks of September 11, 2001. Life is good designed a stylized American flag t-shirt in the days following the 9/11 tragedy in order to provide hope and relief at a time of adversity. The public's overwhelming response to the t-shirt enabled Life is good to make a $207,000 donation to the United Way on behalf of families whose loved ones were victims of the terrorist attacks.
About The Life is good Kids Foundation
The Life is good Kids Foundation supports extraordinary charities that create a lasting positive impact on children facing life-threatening conditions, including the trauma of violence, poverty, and loss. More than $4 million has been raised to date for children in need, principally through Life is good Festivals and the 100% of profits that The Life is good Company donates to the Foundation from nationwide sales of select products.
About The Life is good Company
The Life is good Company, based in Boston, MA, spreads the power of optimism through its colorful collection of apparel and accessories, its optimistic cultural hero with the huge smile, Jake, and its commitment to improving the lives of children in need. For more information on Life is good, please visit http://www.lifeisgood.com
Life is good® is a registered trademark of The Life is good Company.
###