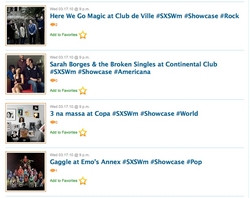 [SXSW is a] "perfect opportunity for people to use RiotVine because there are so many events going on and it can really be an overwhelming experience for attendees.
Cambridge (PRWEB) February 25, 2010
RiotVine is getting into gear for the March SXSW Festival by releasing new features designed to better connect people at the festival's thousands of events and parties. RiotVine.com is a social event guide that is based on a platform where friends are connected to one another, so they know what events their friends are interested in. RiotVine connects users with their Twitter and Facebook friends automatically so they can easily see and share the events that they and their friends are planning to attend.
The website currently has over 2,300 SXSW events listed, spread across the conference's three festivals: Music, Film and Interactive. The events are easily searchable with #SXSW on their website, or by visiting RiotVine's special SXSW section. Over 6,000 people are currently using the website, and those numbers have been growing rapidly since the promotion of the SXSW focus.
RiotVine is also rolling out additional features prior to SXSW, including integration with Google Buzz and more ways to share your event schedule, like on a blog. And, of course, to make RiotVine SXSW accessible during the festival, RiotVine's mobile site will launch in early March in advance of SXSW and will be operational on most smartphones. To encourage SXSW attendees to spread the word before the festival, RiotVine is running a sweepstakes through March 9th, where the winner will win a wristband to the SXSW Music Festival (value: $180).
In the past few months, RiotVine founder Kabir Hemrajani realized that SXSW would be a "perfect opportunity for people to use RiotVine because there are so many events going on and it can really be an overwhelming experience for attendees. By giving people an easy tool to see where their friends will be, it can make their experience more enjoyable and less overwhelming."
Hemrajani believes that RiotVine complements other tools with a similar focus, such as Sitby.us, which helps people find where in a panel session their friends are sitting, and Foursquare, a location based service where people get points for "checking-in" at locations they go to. He says, "I think RiotVine works very well with these other websites, as each has a different focus. We tell you what parties your friends will be at, Foursquare tells you where your friends are at that moment, and Sitby.us is at the micro-seating level. This just shows that the social aspects of events are becoming quite popular."
RiotVine was launched in November 2009, and is headquartered in Cambridge, MA.
RiotVine's SXSW guide: http://www.riotvine.com/sxsw
Sweepstakes: http://wildfireapp.com/website/6/contests/23658
RiotVine is a website that allows people to "find cool, local events with your friends!" It gives people in Boston, New York, Austin, Los Angeles, San Francisco the opportunity to find out about new events, and then share them with their friends. Anyone can add an event, and anyone can favorite an event. RiotVine is fully integrated with Facebook, Twitter and soon, Google Buzz, so it's even easier to share events.
# # #