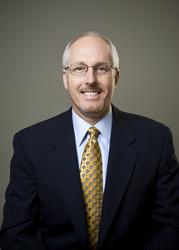 "As we craft exceptional new homes and communities for the next generation of Northern California families, we will carry on the great legacy and tradition of excellence that has defined Warmington for more than 80 years."
Costa Mesa, CA (PRWEB) February 8, 2010
Warmington President and Chief Executive Officer, Jim Warmington, Jr., has announced that 26-year homebuilding industry veteran, Greg Mix, has joined the group's residential homebuilding operation as President of its Northern California division, which is headquartered in San Ramon, California. Mix assumed this position February 1, 2010.
As a well regarded homebuilding executive and a licensed architect, who previously was employed by William Lyon Homes' Northern California region for nearly 12 years, Mix has extensive experience in all facets of residential homebuilding including division management as leader of Lyon's Bay Area/Central Valley Division, asset management, project management, land acquisition, contracts, architecture and planning. Most recently, Mix was an Executive Director at Morgan Stanley Real Estate Investments in San Francisco where he managed a nationwide portfolio of residential development assets that included 11,000 home sites. Further, Mix brings to Warmington an impressive list of industry contacts and associates garnered over the years he's served on the Board of Directors and Executive Committee at the California Building Industry Association, Home Builders Association of Northern California, where in 2006 he was chairman, California Homebuilding Foundation, and HomeAid.
"We are extremely pleased to welcome Greg Mix to our team and feel his qualifications, background and insight into the building industry and the greater Bay Area marketplace align perfectly with our objectives for our Northern California division in 2010 and beyond," Jim Warmington, Jr. said in announcing Mix's appointment. "Our primary ambition is growing the division including securing new fee management opportunities and actively pursuing new land deals. Under his leadership and with his depth of experience, we are confident we can achieve these goals and look forward to expanding Warmington's presence throughout Northern California, including the Sacramento region.
During his years at William Lyon Homes, Mix was part of a team that developed 4,200 lots in 43 projects in both the Bay Area and Sacramento regions. Prior to that he was President of Land Planning Consultants and Principal at Gregory Mix and Associates, a real estate investment and development company focusing on residential land development in the East Bay and Central Valley.
"I am pleased to be joining Warmington and am enthusiastic about to the opportunities that lie ahead as we look forward to a brighter future in the real estate market," Mix said. "As we craft exceptional new homes and communities for the next generation of Northern California families, we will carry on the great legacy and tradition of excellence that has defined Warmington for more than 80 years."
With Mix at the helm, Warmington will introduce its newest Northern California community this spring. Grand Marina Village in Alameda is a 40-home subdivision that will include three-level Craftsman and Bungalow-style homes with approximately 2,152 to 2,373 square feet-just steps from the water near Alameda's Grand Marina. Model homes are now under construction and the sales office and model homes are slated to open in April with home prices beginning from the high-$600,000s. Already there is strong interest in Grand Marina Village with nearly more than 200 names registered on the early interest list.
Warmington also is engaged in a variety of fee and asset management agreements with several banks and institutional lenders in both California and Nevada. In addition to expanding it's owned project base, its 2010 business plan calls for aggressively seeking new management opportunities in the Northern California region while looking forward to the end of this down cycle and the return of more stability in the market. To accomplish this, Warmington said that the group will rely heavily on Mix's expertise and counsel.
The Northern California division of Warmington Residential California recently moved to new offices in San Ramon, where it has been a local presence for more than 30 years. The division offices are located at 2400 Camino Ramon, Suite 234, San Ramon, CA, 94583. Mix, a Bay Area native, who resides in Danville, will work out of this location. For more information, call (925) 866-6700 or email Greg Mix directly at greg.mix@warmingtongroup.com.
The Warmington group of companies currently has 12 new home communities in various stages of development and/or construction, including more than 600 fee-managed single-family homes and several apartment complexes with nearly 1,000 for-rent residential units, in locations throughout California and Nevada.
The group, which began as a builder of custom homes in 1926, and is well known for crafting beautiful residential neighborhoods, now also offers a full spectrum of real estate management and development services. This includes project analysis, asset protection, property management, and entitlement processing as well as planning, building, selling and servicing new residential production homes, condominiums and apartments.
For more information, visit http://www.homesbywarmington.com/
###