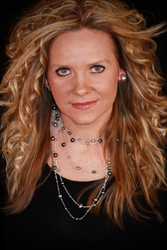 "We're very proud to work with Hannah and to be part of her call to social awareness and action." Jason Vogt, Red Records President
Nashville, TN (PRWEB) February 11, 2010
Vivacious and visionary country music star, Hannah McNeil is opening eyes with her latest video, "What Am I Getting Up For," striving to inspire a heightened consciousness, asking people to think about their purpose, their contributions, and ultimately 'what they are getting up for' each day.
McNeil's video has side-stepped predictable country themes such as 'love gone wrong,' 'pick-up trucks' and 'having one more beer.' Instead, the song explores deeper subjects that the video illustrates with striking images and themes.
"Scenes of love, Martin Luther King, Jr., alcoholism, recovery, church, precious family moments, volunteering and soup kitchens are juxtaposed in the video, creating a powerful impact," says Rob Higgins of Red Records.
McNeil's video is the essence of who she is. Each scene is thoughtfully designed to showcase the facets of Hannah's extraordinary message and persona. Her passion for helping others coupled with her charming personality shine in each moment of screen time. This is not your generic production, but rather, a story set to music in which McNeil shows that people can make the world a better place.
"Hannah is refreshing -- part singer, part motivational speaker," said Jon Sebastian of WWQM-FM.
The video can be viewed in regular rotation on cable's leading source for country music, Great American Country (GAC) and as a top pick on http://www.GACTV.com.
McNeil co-wrote the song with hit makers Jeffrey Steele and Jesse Wray. She recently released her self-titled debut album, which contains songs about overcoming life's challenges and the empowerment and strength that can be found inside everyone. For clips of Hannah's CD, go to http://www.hannahmcneil.com.
While on tour, McNeil makes it a top priority to find a homeless or domestic violence shelter where she can hold a concert for the people in need and deliver a message of hope and inspiration. One shelter McNeil made a point to stop by on one of her recent tours holds a special place in her heart. It was the Stephen Center in Omaha, Nebraska, a shelter her mother and father started when McNeil was a young girl.
The singer-songwriter's label, Red Records, marches to the same beat of its star by looking for ways to make a substantial difference in society. Nashville is taking notice as the label is fostering and encouraging artists' personal and musical visions while producing quality records. Red Records President, Jason Vogt said this of its rising star, "We're very proud to work with Hannah and to be part of her call to social awareness and action." To learn more about Red Records and Hannah McNeil, please visit http://www.redrecords.net.
Contact:
Nicole Massara
615.599.0007
Nicole(at)redrecords(dot)net
###