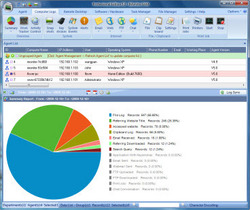 IMonitor software has defined itself as a front-runner in the monitoring and surveillance field for business customers by producing popular, high-quality, and affordable monitoring and surveillance solutions for business customers.
CHICOPEE, MA (PRWEB) February 10, 2010
Today at IMonitor Software and Design, Ltd Headquarter US, to be aimed at what trends internet monitoring software and local network computer monitoring should be in the future, IMonitor Software and Design, long term developing employee monitoring software with absolute leading web monitoring, computer activities monitoring and keystrokes typed monitoring, offer one more than 50 persons online discussion and feedback meeting with our chosen customers.
"The future employee monitoring software should be more focus on local files security and fully monitoring web activities. Since business has stepped into global network, security and internet monitoring issue have been more showed important." IT department manager Jose of Hand in Delivery Company said.
Quality employee computer activities monitoring software should provide a high level of flexibility and security. That means employee monitoring software flexibility should be scalable and compatible which can be accepted with most network monitoring environments. As well computer activities monitoring software should not be bounded to specific pieces of hardware or software, that would be the initiated condition which makes employee monitoring software seamless with all kinds of computer monitoring environment. In additionally, considered security compliance and identity theft issues, fully and real-time keystrokes typed monitoring and confidential files managing, including IM keystrokes logs, email keystrokes logs, document keystrokes logs and files copy, move, delete operation, are also being taken into serious position.
A depth employee internet monitoring software not only should you be able to prevent access to certain categories of Web sites, also it should be able to detect sensitive keywords in employee email, chat, IM and file transfers, which definitely prevent confidential documents leaking and identity theft. As well employee internet monitoring software will allow customers to view or real-time monitoring history conversation and email content. Robust employee internet monitoring software should be able to recreate the content of the chat session as well as let user create filtering rules to block inappropriate content transmission and set the blacklist of contacts list.
Leading computer and internet monitoring software should offer a combination of employee local and internet management capabilities. IMonitor EAM (Employee Activities Monitor) is just successful spy software in computer and internet monitoring field, which not only provides high level of local computer monitoring flexibility and security, also all computer activities including Keylogger, logs Applications accessed, logs files accessed and logs Screenshots of User Activities. As to the aspect of internet monitoring, IMonitor EAM also is a perfect solution, not only includes unique real-time remote desktop screen view feature, also includes logs Websites Visited, logs Online Searcher Performed, logs Internet Connections Made, logs Email Sent and Received, and logs Files Uploaded and Downloaded.
About IMonitor Software and Design, Ltd
Since the first version of EAM born at IMonitor Software and Design, Ltd Headquarter on the year of 2002, it has been passed about eight years. IMonitor Software has redefined monitoring software for all different networks. Unique employee tracking technology is renowned for its performance, best compatibility and much lower system requirements, while giving users a stable, safer and more dynamic real-time monitoring environment.
Contact
Leon Lee
IMnonitor Software & Design, Ltd
Website: http://www.imonitorsoft.com
Email: Sales(at)imonitorsoft(dot)com
###