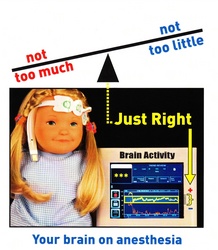 Big Pharma millions appear to preclude ASA advocating greater patient safety.
Newport Beach (PRWEB) February 2, 2010
The NFL is giving $1 million to encourage current and former NFL players to donate their brains to the Center for the Study of Traumatic Encephalopathy, which has said it "found links between head trauma and brain damage in …football players."
January's ASA official journal, 'Anesthesiology,' reports a 'Case Scenario: Postoperative Delirium in Elderly Surgical Patients' "to highlight key points essential for… delirium occurring after anesthesia..."
Never considered was the common practice of routine anesthesia over medication as a possible cause of post-anesthesia delirium. Why does the ASA appear to continue to resist calling for routine brain monitoring to avoid over medication, especially for seniors whose brains are more susceptible to those effects?.
Big Pharma millions appear to keep the ASA, Americans' presumed safety advocates, from informing patients that, without a brain monitor, anesthesia over-medication affects 99.9% of everyone 'going under', while anesthesia awareness affects only 0.1% of patients.
The ASA trumpets a study showing brain monitors prevented 'only' 80% of awareness under anesthesia for the 0.1% of patients as 'insufficient' evidence of their usefulness. 'More study needed,' the ASA venally concluded.
"The ASA apparently justifies routine anesthesia over medication with the known risks of dementia that can last hours, days, weeks, months, or, in the worst cases, permanently," opines prominent anesthesiologist, Dr. Barry Friedberg. "Big Pharma profits from more, not less, drug sales."
"National brain monitor use could mean as much as 30% of anesthesia drugs would not be sold while Americans would still get excellent anesthesia," says Friedberg. "Big Pharma contributes millions of dollars to the ASA which can't function without."
Repeated head trauma (NFL) or too much alcohol (Alcoholics Anonymous) isn't good for the brain. Recent studies show too much anesthesia is also 'traumatic' and not good for patients' brains. "Hardly surprising," notes Friedberg.
"The nine essential questions to ask before surgery are on http://www.GoldilocksAnesthesiaFoundation.org. Ask these questions on the first surgical consultation. Demand a brain monitor for 'going under' or go elsewhere," says Friedberg.
Disclaimer: No brain monitor makers provide financial support to Dr. Friedberg or the non-profit Goldilocks Anesthesia Foundation.
###