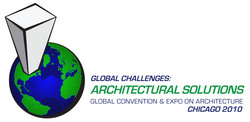 "Thanks for the event. Having never been there before we left with neck aches from looking at all the tall buildings. Teams that did not travel missed a spectacular event. We left with memories we will never forget!" Todd - Lexington, SC
Chicago, IL (PRWEB) February 15, 2010
In celebration of the third annual National Architecture Week this coming April, design professionals, design schools' faculty and students, architectural non-profit organizations, bloggers and industry-related product leaders are invited to gather next spring in Chicago - an international destination for architectural excellence and innovation - for the 1st annual Global Convention and Exposition on Architecture.
Sponsored by Chicago Architecture Today LLC, and promoted by AIA Chicago, this gathering presents an unparalleled opportunity to experience the latest technologies, learn about professional organizations, market your qualifications to corporate firms and even compete on a world stage. What better venue to convene on architecture than in the world class city of Chicago? Join us April 15-17, 2010 at the historic Congress plaza Hotel and Convention Center on South Michigan Avenue for what promises to be the architectural event of the season!
Call for Sponsors and Exhibitors.
Located in the spacious Windsor Room of the Congress Plaza Hotel, availability currently exists for sponsorships of various expo components. Additionally, if you are a design firm in the U.S. or abroad, a non-profit architectural organization, an industry-related product retailer, architectural blogger or design school, limited space remains to represent your interest. Please contact us via the listed email or phone to reserve an opportunity for your business or company at the Expo.
Call for nominations for Global Impact Awards in Architecture.
Nominations are being received for the first Global Impact Awards in Architecture. These awards aim to give recognition to positive contributions made to the pedestrian environment via architectural design, construction, education, publication, and patronage. Nominees under consideration to receive these honors within specific divisions will be selected and winners chosen by industry leaders. The following categories comprise the targeted areas to be awarded for 2009: Top International Design Firm, Top Collegiate Department of Architecture, Top Architectural Organization, and Honorary Friend of the Architectural Community. If there is a firm, collegiate department of architecture, architectural organization or individual not necessarily connected to the industry but has made significant and positive contributions, which you believe deserves consideration, please send in their nomination.
Call for entries in our Ideas Competition Initiatives.
In an effort to introduce professional solutions to problems of public interest and concern, the GCEA endeavors to engage the professional and public sectors through selected design challenges. The target challenges are as follows: first, to spur urban renewal in a economically-challenged Southside community through the proposal of a design for a Chicago Union Stockyards Museum & Education Center incorporating the landmark gate and expanding the associated park, and second, to design affordable and sustainable residential spaces which encourage assimilation and foster dignity, community and opportunities for immigrant communities in countries with burgeoning populations around the world.. Please visit our website for more info.
Participants sought for Chicago's First Architecture Race
If you value a chance to not only view but interact with amazing architecture, plan to participate this Spring in the Amazing Architectural Race Saturday, April 17 starting in Chicago's beautiful Millennium Park! Selected teams of two (2) will traverse Chicago's unique mix of historical and contemporary architectural landmarks via boot, bike, board, boat, and bus. Reserve a slot for your team while openings last. Please visit our website for more info.
###