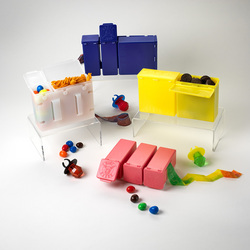 Don't Just Get Candy Get KUBBE
Sharon Hill, PA (PRWEB) February 22, 2010
KUBBE is a trendy plastic utility buckle that allows people to carry up to 3 different candies or preferred snacks while on the go. KUBBE can be attached to belts, book bags or purses. This new and unique product has 3 detachable plastic containers that make it easy and convient to store and retrieve snacks at anytime. KUBBE's sleek style provides comfort and satisfaction as its fashionable compact design contours around ones body. Have fun with KUBBE's personal versatility, KUBBE has up to 5 different style options. Your KUBBE your choice.
Order a Kubbe today for only $14.99. This package includes the small and large Kubbe, which can be converted into 5 different styles that fit any daily routine. Snacks were made to be convenient, and Kubbe allows people to carry the snacks of their choice in almost every porportion possible. So why wait to make all snacks effortless and fun; order a KUBBE today at http://www.iwantakubbe.com or at 1-888-KUBBE-17.
Be a part of the elite crowd at the unvealing of KUBBE from 5 p.m.- 10 p.m. on February 24th & 25th. The unveiling will take place in Philadelphiia, Pa @ the Wanamaker Building, in the Crystal Tea Room on the 9th floor. Start trully living life and be one of the first to wear the Kubbe before it hits stores nationwide.
###