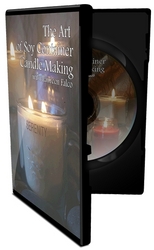 Looking to go "green" in 2010? Then learn how to make your own beautiful soy container candles with biodegradable soy wax in the comfort of your own home.
Houston, TX (PRWEB) February 8, 2010
A new DVD entitled, "The Art of Soy Container Candle Making," with Laureen Falco, has just been launched. The 50-minute, high-definition DVD features complete instructions for making soy candles at home, with plenty of useful information and a touch of humor.
Falco has taught "How to Make Soy Candles" in Houston and was even featured on "Great Day Houston". In less than an hour, it's Falco's hope that anyone will know how to make beautiful soy container candles.
"Laureen Falco has created the ultimate video resource for anybody who wants to learn how to make soy candles at home," said Pat O'Bryan, an Internet marketing guru and musician, PatOBryan.com.
"She shows you all the options, so you can make the right choice for you – whether in choosing the melting methods, different kinds of soy wax, fragrances, dyes, etc. The DVD features a beautiful soundtrack, graphics, close-ups, time lapses, titles and it's easy to follow and informative and entertaining as well. Grab it now and start having fun!"
The DVD includes safety tips from the National Fire and Protection Association and a 30-minute segment on components and making a soy candle.
A "play all" or "scene section" button is available for the "components and making a soy candle" segment, and the DVD has special graphics, close-ups and time-lapses.
The 30-minute "Making a Soy Candle" segment begins with an introduction and history of candles and delves into the benefits of soy wax, wax melting methods, soy waxes, fragrances and essential oils, dyes, wicks, wick adhesion and wick centering tools, jars, adhesives, additives and challenges of working with soy wax. Following the introduction, Falco takes readers through the steps of creating a lavender soy candle with dye and fragrance oil.
There's also a separate segment called "As Green As It Gets", in which Falco teaches viewers how to make all natural soy candles with soy wax, essential oils and recycled glass.
Falco introduces some tips for making and burning soy candles and in bonus segments, there's an interview with Falco, a feature on selling soy candles at CenterPoint Houston and some fun bloopers.
Viewers raved over the DVD's features.
"We just love this step-by-step instructional video on how to make soy candles. This is by far the best gift you could give yourself or to a friend who wants to make fabulous green living soy candles," said Joan Maresh Hansen and Marian LaSalle of Houston, goodlifeguide.org.
"We were so pleased at all the details in this video. You simply cannot make a mistake because she covers everything you need to know. Laureen makes the process so smooth and loads of fun for the family, or practical for the serious entrepreneur."
Bill Hibbler of Wimberly, Texas, ecommerceconfidential.com, said the DVD is applicable for all skills levels.
"Laureen Falco covers the various ingredients you need to make a soy candle and then you can watch step-by-step as she creates a soy candle in her kitchen," he said. "I was blown away by the quality of this video. You can see and hear each step on how to get the soy wax and melt it, how to choose and add fragrances and dyes, how to center and place the wick…everything you need to know."
Geoff Hoff of Los Angeles, a writer, actor and coach, JosephCoaler.com, said he became familiar with the candles several years ago at a "body-mind" event.
"The information is presented in a clear, step-by-step way that anyone can follow. The candles she makes are so beautiful, I could almost smell them through the TV screen!" he said "This DVD is perfect for someone who likes to give unique, hand-crafted gifts for the holidays. It's also a perfect gift itself!"
So, yes, it's possible to make 100% hydrogenated soybean oil right at home for a fraction of the cost of regular candles. Soybean wax is non-toxic, biodegradable, environmentally-friendly, microwavable, burns cleaner, has less soot and there's an easy clean-up.
The DVD costs $39.95 and includes free shipping within the Continental U.S. Order through http://www.SoyCandleU.com.
###