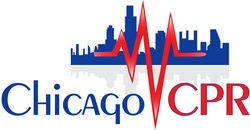 Hard and Fast to the beat of "Staying Alive"
Chicago, IL (PRWEB) February 19, 2010
The majority have heard that hands only CPR can be just as effective as more traditional methods. The hands only CPR movement has been gaining momentum in the last few years and while it is recommended for by standards to begin pressing on the victim's chest hard and fast at a rate of 100 beats per minute, it is still recommended that professional rescuers perform traditional CPR.
Recent studies suggest that a person who experiences sudden cardiac arrest has roughly 10 minutes worth of oxygen in their blood stream. This amount, if circulated around should provide adequate oxygenation of the brain and heart until advanced help arrives, however it is not likely to be sufficient to support life for the transport to the hospital. When EMS professionals arrive they should begin traditional methods of CPR.
Remember if a professional rescuer, who does not witness the arrest, traditional CPR with AED is still the leading recommendation. The best way to be ready for an emergency is to remain current on your CPR skills.
In honor of National Heart Month, Chicago CPR will be offering a 10% discount off of our normal BLS CPR Courses. All classes offered at Chicago CPRwill discuss hands only CPR in more detail as well as learn more traditional CPR methods.
Call today: 312.772.3781
###