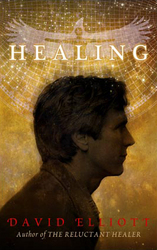 The core issue, according to Elliott, is self-love. "We've heard it before," says Elliott, "but it's true – until we love ourselves, we can't really love others."
Los Angeles, CA (PRWEB) February 8, 2010
"Healing" has become a buzzword in American culture. But what exactly does it mean? In his new book, Healing (Hawk Press, 2010), healer David Elliott defines healing as "the journey back to our natural state of balance and harmony that is called love." The core issue, according to Elliott, is self-love. "We've heard it before," says Elliott, "but it's true - until we love ourselves, we can't really love others." For a limited time, the book is available as a free download at http://www.DavidElliott-Healing.com .
"We behave in ways that indicate an emptiness inside where our self-love should be, and we try to fill it through different means." He describes these behaviors as: Being extreme - "We act extremely as a result of this deep feeling that somehow we're not okay, not enough." Being aggressive - "Often this behavior fuels consumerism, the unconscious drive to fill our emptiness with goods, food, sex … whatever!" Addiction - "is habitual repetition of excessive behavior that we're unable or unwilling to stop, despite its harmful consequences. The pathway for addiction is this inner hole of negativity, created by a lack of self-love." Ego - "The ego -- personality or self-image," says Elliott, "is often an inflated image of oneself. It has a powerful way of controlling your emotions. If you're driven by emotions, you'll rarely know when or how ego is distorting your perspective." Stubbornness - "Stubborn people are tyrants trying to get their self-imposed needs met. They'll spend all their energy trying to convince everyone about their position."
"We can see these personal characteristics in much of our recent national experience," Elliott points out:
The U.S. being extreme - "Just look at our recent history of foreign interventions and aggressive, warring activities."
Aggressive consumerism - "We're the world's largest consumers, with up to 99% of goods bought from Wal-Mart ending up in land-fills within six months! Still, we're encouraged to 'keep shopping.'"
Addiction - "Obesity is the result of food addiction; alcohol and drugs are substances addicts use to try to fill up their emptiness. Add sexual addiction, gambling … we are a highly addicted society."
American ego inflation - "Our national ego insists that we are only the good guys. Those who attempt to hold us responsible for the pain and suffering we've created in the world are labeled as terrorists or threats to national security.
"We are stubborn! Witness the U.S. battle between progressive and conservative interests. Political perspectives based in fear hold that the pain and suffering we know is probably less onerous than the pain and suffering likely to come from profound change. It's hard to let go, move on, and grow in this polarized environment!"
According to Elliott, "These are all physical, emotional, mental, and spiritual wounds that we need to heal in order to experience the happiness, joy, peace, and well-being that life has to offer.
"Given the lack of love so many of us experience for ourselves and each other, is it a wonder that our society has so many ills?
"But to heal we have to love the whole of ourselves," according to Elliott, "not just the great stuff. That includes the unattractive parts of us. This is as true for a society as it is for an individual. When you can accept the whole truth about yourself, and embrace it, the wound softens and begins to heal."
Another key to Elliott's healing methodology is to develop exchange. "With self-love," he counsels, "there will be an exchange of love; with no self-love you will be seeking love. If you cultivate self-love, you create relationship with everything around you, which brings the spiritual aspect of exchange into your consciousness.
"This opens a flow of energy that expands your self-love and builds as you consciously exchange with the Universe. When exchanging love, awareness, and awe with the Universe, magic happens."
So, how to heal? How to do it?
"First," nogtes Elliott, "healing is a personal, internal job. Each of us has to choose to do the work for ourselves. And the cumulative effect will heal our society, resulting in greater justice and equity, and a concern for the common good. Remember, we are all alike in so many ways. The stories of our lives may be different, but our wounds - the places where we feel unloved and unlovable - are similar. So the work of healing can be done in a Universal way."
And that's what Elliott offers in "Healing."
In Section One - The Crucible - the material that allows the reader to truly engage and deal with the self is defined. "Do you love yourself or not? That's the first step towards unlocking your healing potential."
In Section Two - The Work - Elliott provides information and exercises on Intuition and Creativity, advising, "If you study and do the homework, you will find the truth inside yourself and be uplifted. Your faith can grow through the roof, and your ability to exchange love with the Universe will become a daily adventure."
In Section Three - Healing Yourself - Elliott addresses the most prevalent underlying wounds that deprive people of self-love and constrict their lives, including Sexual Abuse, Cancer, Marriage and Divorce, Leadership Roles, and Money.
Section Four - The Healing Work - provides Healing Tools the reader can use to address their wounds and further the healing process.
In the fifth and final section - Gratitude - Elliott stresses the value of experiencing and expressing gratitude daily. "Remember," he says, "gratitude is a shortcut, and this is one of the few times I will give you a shortcut."
Thirty-three exercises, 13 diagrams, and Elliott's personal stories make "Healing" a "multi-sensory, safe, experiential journey into the depths of yourself. Properly engaged, the process can result in a self-love that's the basis for a life of wholeness, connection, gratitude, and peace."
The story of David's journey from farm boy to healer is rich. He shared it in his first book, "The Reluctant Healer" (Hawk Press, 2005). Information at http://www.reluctanthealer.com. Today, David sees clients at his home in Los Angeles and works with people all over the world. He conducts healing retreats at his mountain center outside Albuquerque, New Mexico, and is training a gifted group of healers to work with others. "All the information is readily available," he counsels. "Millions understand the process. But only doing the work will provide results. It's time to make the move from understanding to experience."
As David ends Healing…Namasté, Peace, Amen! Love, David
###