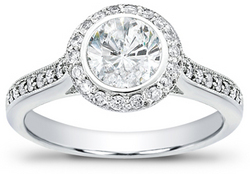 "Valentine's Day is the perfect day to propose. It'll make your engagement date easy to remember and give you one more anniversary to celebrate."
Los Angeles, CA (PRWEB) February 1, 2010
Founded in 1998, Adiamor Diamond Engagement Rings has helped thousands of customers find just the right diamond engagement ring at just the right price. This year, in commemoration of Valentine's Day, Adiamor is enhancing its tradition of service with a list of the most interesting ways to propose.

Assemble a photo album that chronicles your relationship from the beginning. The album itself can be a new, high-quality item or it can be a vintage piece in excellent condition. Make sure the last page has a special picture of the two of you with the caption 'Will You Marry Me?" underneath, and don't forget to leave some space for the 'She Said Yes!" picture.
There are several variations on the theme of surprising a bride-to-be with a marriage proposal on Valentine's Day. Rent a billboard along a popular commute path or the scoreboard of a favorite hometown sports team. Have a magician materialize the ring from out of nowhere or ask the waiter at a fancy restaurant present it on a tray of rich desserts. Whatever the method, surprise is the key; it's best to match the proposal to the day's activities.
Travel back in time to your first date together and re-create it as faithfully as possible. Near the end of the date get down on one knee, pull out the engagement ring and propose. This idea will be easier for some than for others, but properly executed it will be the memory of a lifetime.
A public venue proposal is fun and exciting, but especially when surrounded by loved ones. Maintain the surprise by going on a romantic date for two but arrange for friends and family to show up "unexpectedly" a few at a time. The Best Man should be the last to arrive, handing over the box with the diamond engagement ring in it as you drop to one knee and propose in front of everyone.
Lead the bride-to-be on a treasure hunt, working through the clues together to find the hidden engagement ring treasure. Write little notes that lead through every room of the house or make pointers out of sticks and stones along the path of a favorite hiking trail. Whatever the place, each clue should have its own reward that builds anticipation for the next; favorite candy bar, a single rose, a box of truffles, theater tickets - each leading up to X marking the spot of a diamond engagement ring and a proposal of marriage!
Adiamor's Marketing Manager Sarah Harris says, "Valentine's Day is the perfect day to propose. It'll make your engagement date easy to remember and give you one more anniversary to celebrate." The perfect ring on the perfect day is the life-long dream of every bride-to-be, and Adiamor has been helping customers find both since 1998.
Adiamor.com carries an extensive collection of the finest diamond engagement rings and exquisite diamond jewelry for any occasion. Adiamor prides itself on tremendous value and outstanding customer service and offers a 100% Satisfaction guarantee to prove it. Visit Adiamor.com today and let us help turn that special day into that perfect day.
###