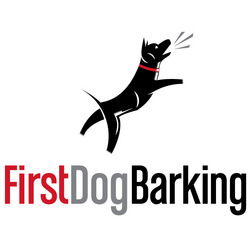 First Dog Barking is a fresh voice in a cluttered online pet world.
San Carlos, CA (PRWEB) February 9, 2010
First Dog Barking LLC (http://www.firstdogbarking.com)], announced the launch of FirstDogBarking.com – a premier web destination created to showcase great places, products and services in pet-friendly travel. By providing original articles and insights, First Dog Barking introduces visitors to pet-friendly locations, hotels, restaurants, events, and activities, while providing recommendations on products and services that enhance an active and healthy pet-centric lifestyle. By constantly researching and writing about new destinations and topics, First Dog Barking will be the 'go-to' site on the web for smart and entertaining pet travel information and ideas. In addition, First Dog Barking expects to advance the growing trend of pet-friendly facilities and venues enabling more people to enjoy the travel experience with their pet companions.
According to Catherine Sweeney, Co-founder of First Dog Barking: "First Dog Barking is a fresh voice in a cluttered online pet world. By getting the word out with innovative features and perspectives about the best in pet-friendly travel, FDB enhances the on-the-go lifestyle of people and their pets." Martie Bond, Co-founder of First Dog Barking, added: "A movement has begun among travel providers, hotels and other businesses to meet a pent-up demand for providing pet-friendly services. We believe First Dog Barking can be a catalyst in motivating service providers to join this trend."
FDB's talented group of writers across the globe:

Present unique insights into established pet-friendly locations as well as those off the beaten path
Identify must-have resources on pet health, nutrition, innovative products and travel essentials
Report on culture, events and activities of interest to FDB's pet-loving audience
In short, First Dog Barking delivers the information that matters most to travelers that love the companionship of their pets, whether on the road or close to home.
"We are proud to be associated with First Dog Barking, a company that shares our commitment to pets, owners, and their travel adventures," said Canine Covers Director of Marketing, Rick Messmore. Canine Covers produces premium products for vehicle interior protection that are easy to use and provide comfort for the traveling pet.
"First Dog Barking is focused on informing their readers about the best in pet travel and we are excited to be associated with their launch," said CANIDAE Pet Foods Director of Marketing, Jim Mantych. CANIDAE Pet Foods is committed to providing its valued customers, and their pets, the highest standard of excellence for product quality, palatability, and customer satisfaction.
About First Dog Barking
Founded in 2009 by Catherine Sweeney and Martie Bond, First Dog Barking LLC was created to be a high quality resource for people wanting to travel with their pets. Inspiration for FDB came from the combination of Catherine's lifelong passion for travel and Martie's love of and life experiences with her two cavalier King Charles spaniels, Zack and Hannah.
# # #