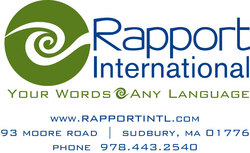 "We are thrilled to be able to offer our clients the benefits from our partnership with SDL," said Wendy Pease, Executive Director, Rapport International.
Sudbury, MA (PRWEB) February 1, 2010
Rapport International, LLC a woman-owned, full-service translation and interpretation company is pleased to announce a partnership with SDL, the leading provider of Global Information (GIM) solutions. Based in metro-west Boston, Massachusetts, Rapport Intl. provides precise, professional translation services in over 100 languages.
Through expertise and dedication to quality, Rapport provides the highest quality linguists to meet each project's needs. Rapport develops long-term, successful relationships with clients such as Learning Curve Brands, Wellington Management, and the State of MA among others, by handling their foreign language communications effectively and cost-efficiently. Along with extensive translation experience, Rapport translators have advanced degrees and training in the appropriate commercial, industrial or technical fields. Some areas of expertise include: medical, legal, technical & manufacturing, financial, consumer products, and foreign language desktop publishing.
SDL is the leader in Global Information Management (GIM) solutions that empower organizations to accelerate the delivery of high-quality multilingual content to global markets. Its enterprise software and services integrate with existing business systems to manage the delivery of global information from authoring to publication and throughout the distributed translation supply chain.
SDL has implemented more than 500 enterprise GIM solutions, has deployed over 170,000 software licenses across the GIM ecosystem and provides access to on-demand translation portals for 10 million customers per month. Over 1,000 service professionals deliver language consulting and implementation services through its global infrastructure of more than 50 offices in 32 countries.
Through their partnership with SDL, Rapport International is able to offer clients the benefits of services streamlined by best practices utilization of advanced translation technology, enabling Rapport International to help their clients accelerate the delivery of high quality localized content to global markets.
For more information, please visit http://www.rapportintl.com.
###