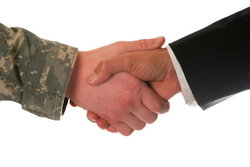 Jamison, PA (PRWEB) February 1, 2010
Milicruit is pleased to announce the first of several virtual career fairs aimed at bringing veterans and industry leading employers across the country together in a fully interactive 3D setting.
Unlike traditional career fairs that may run a day or two and don't allow for much interaction between the candidate and hiring company, the Milicruit event is accessible 24x7 and from the comfort and convenience of your home or office.
The event is limited to 75 industry leading employers and will go live April 29th and run on demand for 30 days afterward. The cost of the event is $1,000 per booth with additional sponsorship opportunities for those organizations wanting more prominent placement.
"Given the current economic climate and the uncertain future our veterans face after returnig from serving our country here and abroad, we felt compelled to deliver a service that would benefit not only the veterans, but also those patriotic business leaders who wish to support the veterans as they re-enter civilian life" said Kevin O'Brien CEO Milicruit
Veterans wishing to attend the event should register at http://milicruit.com/registration.html
Registration and participation are free for veterans. In the Milicruit event, you will have the ability to:
Visit employer booths
View Job Postings/submit resume
View company videos/presentations/webcasts
Chat with company reps
Video interview
"With over 14,000 veterans already registered, we anticipate a large turnout for this event, and as President Obama stated in his State of the Union address, " We need to support our veterans when they return from serving in harms way" states O'Brien
"This truly is groundbreaking technology and a great way for organizations to not only reduce cost in terms of recruiting, but to also have an impact on reducing carbon normally associated with flying or driving to career fairs" says Mike Valentine VP Human Resources Pinnacle
Employers interested in having representation at the event can request information at info@milicruit.com
About Milicruit
Milicruit provides virtual career fair technology with an emphasis on veterans, and those employers wishing to hire veterans. This technology provides the ability to meet as if at a live career fair, but without the need for travel or carbon output. Milicruit brings employers and candidates together in a fully interactive online setting and from the comfort and convenience of your home or office.
###