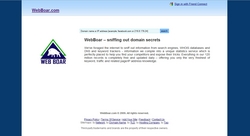 120 million domains analyzed, and counting
New York, NY (PRWEB) February 8, 2010
After an extensive production period, WebBoar.com is finally being made available to the public. This free online service offers users a unique way to explore their competitors, learn and implement the tricks and tactics of top-ranked websites, and generally see what goes on 'behind the scenes' of search engines. These vital tools assist in improving website rankings – and therefore online success.
The primary service offered is website analytics, which is available on a one-click basis. WebBoar.com users can now see where their visitors are coming from, what they typed into search engines to get to the site, which site pages are most popular and much more crucial information. Having the most comprehensive IP network database available online also allows WebBoar.com to offer IP analytics, which makes searching for all domains on an IP address or IP subnet much simpler than it ever was before.
Additionally, the service employs a series of complex algorithms to estimate website values and SEO scores. When users insert the WebBoar.com code into their website text, they will be provided with the latest information on how their backlinks are operating, and can also have their HTML code checked - invalid site programming is one of the key reasons for bad rankings.
Finally, WebBoar.com offers advice on choosing a hosting plan: an up-to-date list of all major hosting providers and a series of easy-to-use comparison charts show users the best options for their individual situations.
With the launch of WebBoar.com, the internet's not a mystery any more.
###