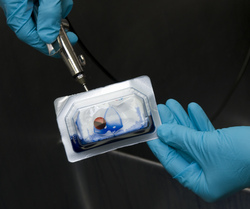 "I take pride in the depth and breadth of DDL's medical device packaging knowledge, material handling methodologies, and distribution testing" -Pat Nolan
Minneapolis, MN (PRWEB) February 3, 2010
DDL, the leader in medical device package and product and material testing, has confirmed that it will host a packaging seminar focused towards the medical device industry.
"The program, which is intended for medical device packaging engineers, supply chain managers, product engineers, and quality professionals is designed to give attendees a better understanding of the demands of the medical device's packaging industry," Scott Levy, Packaging Engineer said.
The one day program will focus on topics ranging from distribution simulation for the medical device industry to regulatory compliance, medical device test method validation and product & material testing. The program will be presented by, DDL Packaging Engineer, Scott Levy, DDL's Quality Assurance Manager, Kim Pratt, DDL's Operations Director, Cory Hensel and DDL's Product and Material Engineer, Al Gale.
"I take pride in the depth and breadth of DDL's medical device packaging knowledge, material handling methodologies, and distribution testing," Pat Nolan, President of DDL said. "We are very excited to open our doors and give attendees an opportunity to expand their knowledge on distribution testing, validation and quality."
The seminar, which is scheduled for March 19, 2010, will be held at DDL's headquarters in Eden Prairie, Minnesota. For more information please visit our seminar website by clicking on the link below or contact Lyndsey Danberry at 952-941-9226 ext. 157.
Spring Packaging Seminar Website
About DDL and the TCP Family of Companies:
DDL is a third party testing facility that offers expert package testing, product testing and material testing services. We have three full service labs in California, Minnesota and New Jersey offering services that include; shock testing, vibration testing, tensile testing, leak testing and validation services.
The TCP Family of Companies is a complete packaging integrity solutions provider servicing the lifescience industries. The TCP Family consists of Cryopak, the leading manufacturer of cold chain related products and DDL, the leader in package, product and material testing validation for medical device and biopharmaceutical industries. The TCP family handles your packaging needs with one paramount goal: getting your product to market on time while maintaining the integrity of your products.
###