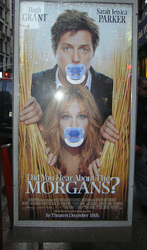 "Less so a campaign and more of a movement in the making, this has been our most successful and memorable marketing effort ever," said Lazar.
New York, NY (PRWEB) February 2, 2010
Have you ever looked at a baby and said to yourself, "you lucky devil?" For those of us who wish we could just lay around in diapers, get fed, not work, not cook, not pay bills, just eat, poop and drool all day while everyone makes goofy faces trying to make us smile and laugh, the latest marketing blitz from chic and environmentally-conscious baby and maternity wear brand Egg Baby will have you saying "goo-goo gaga." Designed to generate awareness quickly for and drive traffic to Egg Baby Egg's online storefront, the breakthrough, 360-degree marketing campaign centers around the simple and thought-provoking theme of adults wanting to be babies though the micro site http://www.iwanttobeababy.com.
Harnessing the power of creative advertising, public relations, viral and peer-to-peer outreach, promotions, and no-holds-barred, true guerilla-style marketing tactics, the irreverent, non-traditional campaign in less than five months has generated measurable results beyond Egg Baby Founder and Lead Designer Susan Lazar's wildest expectations. "By touching on relevant social issues in an unexpected and irreverent way, our unconventional soft-sell approach based on psychographic insights that put consumers first and the brand second has generated more attention and brand awareness than any conventional cute baby picture advertising could have ever achieved for the same limited dollars", added Lazar.
The brainchild of independent thinker and freelance creative director Marta Ibarrondo (http://www.martaibarrondo.com), Egg Baby's "I want to be a baby" campaign already has generated:
More than 60,000 visits to iwanttobeababy.com with 20 percent bounce rate to egg-baby.com
More than 500,000 viewings of viral videos on social media and peer-to-peer content sharing sites, including 300,000 via YouTube alone
Sparked the interest and support of more than 300 bloggers and self-appointed evangelists worldwide on twitter and Facebook
Inspired a flash mob of 70 fans to dress up as babies for the New York Halloween Parade
In a very short time, through engaging downloads, hilarious videos, exclusive and irreverent content including lists of worst baby names, and a commitment to a variety of children's charities, iwanttobeababy.com has become a community for baby silliness and a very fun place to do some serious shopping for mom and baby.
"Traditional marketing simply doesn't cut it anymore," said Ibarrondo. "Egg Baby understood from the very beginning that to truly engage consumers they had to be bold, fearless, wickedly smart and creative. Needless to say, by embracing the unconventional and relying on actionable consumer insights they not only generated priceless awareness and bottom-line results, but may also have in the process written a new page in marketing history."
Key campaign elements included:
Guerilla takeovers of other brands' outdoor campaigns with large stickers that had hundreds of models and celebrities sucking on non-branded baby blue pacifiers
Scattering of more than 5,000 baby blue pacifiers (branded with iwanttobeababy.com and a note reading "I wish someone would burp me when I have gas") throughout New York City
Baby-like, graffiti-style writing of iwanttobeababy.com on prominent storefronts and high-profile public spaces and landmarks
Placement of stickers with "I want to be a baby so I never have to use a public restroom ever again" in public toilets
Provocative print ads shot by Ted Sabarese depicting adults doing baby things such as a grown up man wearing diapers and putting on talcum powder
A series of viral videos seeded via YouTube and other video-sharing sites
The first featured a man dressed and acting like a two-year-old in baby pajamas interacting with shocked New Yorkers
The latest viral video VIP BABIES, showcases animated caricatures of famous and infamous celebrities as babies
A dedicated Facebook page that engaged fans via baby-related content and humor, as well as contests for chance to win $100 in Egg Baby merchandize.
About Egg Baby
Designed by Susan Lazar, Egg Baby is a chic, environmentally conscious baby and maternity clothing line available at some of the nation's top children's clothing boutiques and department stores. The Company recently celebrated the grand-opening of its flagship store located at 72 Jane Street in Dumbo, NY. For more information, please visit http://www.egg-baby.com.
Contact: Marta Ibarrondo
Phone: 212-982-4516
Email: marta(at)martaibarrondo(dot)com
Web Site: http://www.martaibarrondo.com
###