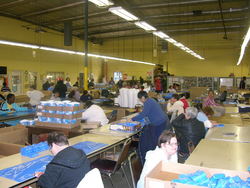 Ontario, CA (PRWEB) February 2, 2010
Baby Trend, a leading manufacturer of baby products , recently reached its goal of producing a price competitive, superior diaper pail refill system for Walmart stores in the United States. In doing so, it has created hundreds of jobs for adults with developmental disabilities who are employed by Hillside Enterprises of Long Beach, California.
The Odor Grabber Universal Refill is the only nine-layer, odorless, universal, diaper pail refill, and is compatible for use in all major brand diaper pails. The patent-pending nine-layer odor barrier technology grabs odor and locks it in. Thanks to the people at Hillside Enterprises, Baby Trend was able to produce a product that provides the highest level of odor control, greatest capacity and lowest cost of any refill currently on the market.
In addition to the Odor Grabber Universal Refill, Baby Trend's other unique, affordable and award-winning products have helped distinguish the company as one of the world's leading manufacturers in the baby and juvenile products industry. Among other products, Baby Trend was the first company to produce a universal car seat carrier, the Snap N Go®, which has won numerous awards. Another leading product, Baby Trend's Flex-Loc Infant Car Seat, was recently named a number one top pick for new parents.
"No matter the ages of your young children, Baby Trend has creative products that will help meet the challenges of this happy, yet busy stage of life. And thanks to the employees at Hillside Enterprises, we can now add another product to this list," says Brad Mattarocci of Baby Trend.
Hillside Enterprises is an agent for change and a voice in the community for the rights and interests of people with developmental disabilities. The organization's work activity center provides language and motor skill development as well as vocational training and employment for more than 300 adults who have developmental disabilities. Based on individual needs and capabilities, the program's participants work in paid jobs in a center-based environment. The work experience program provides clients with a setting in which they may work at their own pace while maximizing their vocational potential and capabilities.
"We appreciate the opportunity to work closely with Baby Trend in assembling this new product. I have witnessed first hand the positive impact this job has had on our clients who enjoy working on this job, finding it meaningful as they learn new skills and earn money for doing so," says Richard O'Leary of Hillside Enterprises.
Baby Trend's Odor Grabber Universal Diaper Pail Refills will be available at Walmart beginning February 2010.
# # #