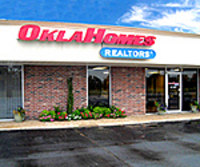 Claremore, OK (PRWEB) February 1, 2010
OklaHomes Realty, the leading real estate firm serving the Rogers County, Oklahoma real estate market today announced the launch of its enhanced website – OklaHomes.com. Designed to provide prospective real estate investors with a singular online resource, the website is a streamlined and efficient way to view properties on the Tulsa and Claremore real estate markets, as well as the surrounding communities of Owasso, Oologah, Sequoyah, Catoosa and Inola.
The team at OklaHomes is a highly skilled group of real estate specialists led by http://www.oklahomes..com/property-search-c19618.html [Allen and Tia Stout __title__ oklahomes property search]. 2010 will be the 21st year that the firm has delivered its superlative services to the community, and a new website seems an appropriate celebration of their consistent success in the area. One look at the design and it quickly becomes clear as to how their superior knowledge and experience influences every aspect of their services – the website is well organized, easy to use and a pleasure to explore.
The elegantly laid out homepage welcomes visitors with eye-catching pictures, balanced with an excellent navigation section that leads to the pertinent sections of the website. Users can quickly access area information through the 'Community Info' link, as well as find many useful tools from community and school reports to financial calculators. Introductions of the many seasoned professionals on the OklaHomes team are available through the 'Associates' link. The 'Properties' section features listings of the best available properties from Owasso OK real estate to Tulsa OK homes for sale.
Visitors should pay special attention to the complimentary MLS search that OklaHomes offers – this is the quickest and most efficient way to get started on their Claremore OK real estate search.
Buyers of Claremore OK homes for sale should indeed try out this useful online resource. Visit http://www.oklahomes.com to learn more.
About OklaHomes Realty: OklaHomes Realty is one of the leading real estate firms serving the Tulsa Metropolitan Area, including the communities of Claremore, Owasso, Oologah, Sequoyah, Catoosa and Inola. Serving the region since 1989, the firm – led by Allen and Tia Stout – utilizes proven strategies and the latest technology to deliver premier services to both buyers and sellers of real estate in the region.
# # #