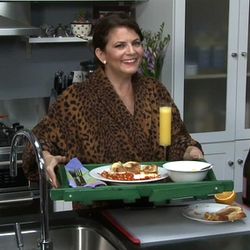 Brooklyn, NY (PRWEB) February 1, 2010
This coming third season of Cooking for Bachelors TV will feature a dating game show in which three single women or men will prepare a dish to be selected as the lucky winner of a date with the bachelor and win a unique prize.
Cooking for Bachelors, dubbed by Channel12News and the Brooklyn Paper as the show to get a satisfyingly delicious "food fix," and its vivacious host and creator, Jyl Ferris, are back again with more ways to "Eat Healthier, Save Money, Live Greener, and Have Fun!" by giving our viewers an opportunity to try their luck in the kitchen for a chance at love. Auditions will be held the first week of February. All dishes must follow the philosophy of CFB: they must include fresh (local when possible) ingredients and preparable within 15 minutes or less. They can be dishes that have already been prepared on one of our videos or a unique dish. Ethnic dishes are more than welcome. Contestants will be required to audition and commit to the shoot in NYC in early Spring.
Selected contestants will appear on the show to cook with Jyl Ferris playing both cheerleader and coach as she teaches them how to really sauté your way into a bachelor's heart. A unique prize will be awarded to each couple selected. All interested parties should please write to date(at)cookingforbachelors(dot)tv.
Auditions will begin the first week of February. CFB is also seeking corporate sponsors for product placement and prizes for each episode.
About Cooking for Bachelors TV: Cooking for Bachelors TV is the online cooking network for all "singles" who want to learn how to cook quick yet delicious, nutritious meals. It is the philosophy of Jyl Ferris, a former designer and mother of four, that anyone can learn kitchen confidence. Free weekly webisodes deliver solutions to today's conscientious consumer by showing that learning to cook can help to save money, eat healthier, live greener, and above all — have fun!
Jyl Ferris is available for interview. For all press inquiries, please contact:
Elizabeth A. Ozoa at press(at)cookingforbachelors(dot)tv
# # #