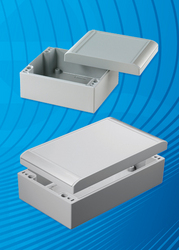 aluCASE represents a major step forward in aluminium enclosure design because it overcomes the limitations normally associated with specifying traditional diecast enclosures.
(PRWeb UK) February 3, 2010
Installing electronics or electrical equipment is now faster and easier with ROLEC's latest new additions to its 'aluCASE' aluminium enclosure range.
ROLEC has added 10 new smaller sizes to its aluCASE diecast aluminium enclosure range – giving engineers an unrivalled choice of 24 models.
All the intelligent features in these modern and easy to use IP67 aluminium enclosures are designed to speed up installation work:

a special lid recess makes mounting a membrane keypad or product label fast and easy
no more unsightly hinges thanks to internal retaining straps. Attractive integrated external hinges can be fitted if required
no more visible fixing screws – clip-in trims hide case and mounting screws
no more wall brackets – each aluminium enclosure has screw ports for easy wall mounting, even when assembled
no accessories are needed to hold lids in place when enclosures are open – two retaining straps are provided
IP69K protection can be specified as an option.
Mounting holes and lid-securing screws are concealed beneath removable decorative strips of either aluminium or plastic.
M4 screw bosses are provided in the lid and base for mounting PCBs and assemblies.
Enclosures can be fitted to walls and other surfaces without the need to remove their lids first.
OKW Marketing Director Robert Cox said: "aluCASE represents a major step forward in aluminium enclosure design because it overcomes the limitations normally associated with specifying traditional diecast enclosures.
"Now we have extended the range to meet growing demand for smaller and larger sizes."
With the 10 new sizes, ROLEC can now supply 24 models with external dimensions from 75 x 50 x 33mm up to 330 x 200 x 120mm.
Each aluCASE aluminium enclosure is manufactured in diecast aluminium GD Al Si 12. They are supplied powder-painted in window grey, RAL 7040.
Additional colour options are also available, either from the standard range or bespoke colours.
Other options include two models with transparent lids made from weather-resistant polycarbonate, and EMC- or IP69K-rated gaskets.
Prices start from £17. Watch the video for a full demonstration of all the benefits offered by the aluCASE aluminium enclosure range.
ROLEC also offers a full aluminium enclosure customising service, providing a fully finished housing ready for fitting the components with:

CNC milling and drilling
silk-screen printing
assembly of cable glands, terminals and much more.
For more information on ROLEC's aluCASE aluminium enclosure solutions, visit
http://www.rolec-enclosures.co.uk/alucase or contact Sales & Marketing Director Robert Cox, +44 (0)1489 583858.
Words: 411
Notes For Editors
OKW ENCLOSURES LTD
15 Brunel Way
Segensworth East
Fareham
PO15 5TX
Tel: +44 (0)1489 583858
Fax: +44 (0)1489 583836
ROLEC has more than 30 years of experience in the design and manufacture of industrial enclosures for electronics and electrical equipment.
Its extensive range of innovative enclosures is brought to you in the UK by partner OKW Enclosures Ltd.
ROLEC is a medium sized family-owned enterprise which manufactures exclusively at its factory in Rinteln, northern Germany.
The company has many years of expertise in the development and manufacture of high quality enclosures and accessories.
ROLEC keeps all catalogued products in stock and uses ultra-modern machines to modify enclosures to individual requirements. ROLEC supplies fully finished enclosures without delay at competitive prices and "just in time".
###