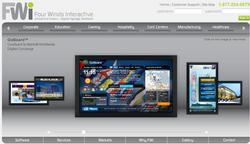 Our old site wasn't reflecting the depth of our company and needed to better communicate the breadth of our installation base
Denver, CO (PRWEB) February 1, 2010
Four Winds Interactive (FWi) is excited to announce the launch of their redesigned digital signage website. Consistent with FWi's new branding, the site is the place to find digital signage facts, software details, client stories and digital signage examples. Through several new features including a digital signage gallery, market-specific project carousels, and updated software and services sections, visitors will get a destination designed to make shopping for a digital signage solution an easy process.
David Levin, Four Winds Interactive President, stated, "Our old site wasn't reflecting the depth of our company and needed to better communicate the breadth of our installation base. With the new site, you'll get a true reflection of the powerful features and applications the FWi digital signage software platform supports and the unique, innovative ways our clients are taking advantage of our digital signage system."
With the addition of a substantial amount of new content, the site is poised to become an information portal for clients, partners, and visitors interested in learning more about the benefits of digital signage and the differentiators of FWi's digital signage package.
The new homepage gives visitors the opportunity to view client projects based on industry with the functionality to click through to a project description complete with photos and video of the finished install. The internal pages are constructed to give visitors useful information pertaining to software functionality, market specific applications and in-house services offered by FWi. An interactive gallery showcases hundreds of photos and videos of real digital signage installations.
Zach Lipson, FWi Creative Director, commented, "We designed the site to be a destination where visitors will see our latest and greatest in product information and client installs. With the unique carousel feature found on the home page, we can consistently showcase our newest digital signage projects, so when people visit the site they will see new content on a regular basis. We really wanted to use the site to convey the excitement that we feel when we launch a new project, I think we'll definitely strike a chord with this new design."
The renovation was managed in-house by FWi's creative services, marketing and development teams.
About Four Winds Interactive
Used to power thousands of signs, the Four Winds Interactive digital signage system is the ideal solution for both domestic and international use. With features including broad media playback capability, sophisticated data integration, digital wayfinding, and interactivity, the digital signage software offers its users a flexible solution designed to enhance the diverse communication objectives of companies in a variety of market segments. Four Winds Interactive is headquartered in Denver, CO and operates out of the historic Parkside Mansion in City Park.
###