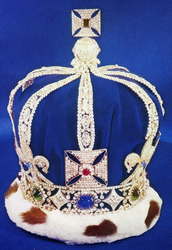 Miami, FL (PRWEB) February 1, 2010
Aventura Mall will extend a royal welcome to Robbe & Berking's "Crowns of the World" exhibit this March when the collection of more than 30 dazzling crowns and head dresses are displayed at the shopping center. The magnificent showcase of some of the world's most exquisite crowns will be held March 4 through March 14 from 11 a.m. to 8 p.m. daily. The complimentary event will be located on the first floor of Aventura Mall, near Center Court.
Crowns have long been recognized as royal insignia steeped in rich history. Many are scattered all over the world in museums and treasuries unable to be viewed by the public, while others have disappeared or been destroyed. Now, for the first time in the United States, Robbe & Berking will bring more than two dozen of them together in a magnificent exhibition. Many of the crowns will be displayed on lavish tables decorated with Robbe & Berking cutlery and exquisite tableware. Similar exhibitions in Dubai and Moscow were greeted with great fanfare.
Highlights of the "Crowns of the World" collection include:

The British Crown of India – Made in 1911 for the proclamation of King George V as Emperor of India in Delhi, the crown is truly breathtaking and boasts 6,170 diamonds.
The Crown of Cleopatra - One of most magnificent and imaginative crowns of the Egyptian kings. It is still unclear today if these unusual objects were actually "worn."
The Austrian Imperial Crown - This is probably the western world's finest crown and was made in 1602 by order of Emperor Rudolph II.
Prince of Wales' Crown - The golden band of this crown is decorated with ornaments in the form of precious stone and diamond rosettes and lined with a pearl wreath.
Imperial Crown of Napoleon I - For his coronation on 2nd December 1804, Napoleon I first had a strangely-shaped crown made, which was believed to be a replica of the crown from the crown jewels of Saint-Denis Abbey.
Crown of the Maharadschas of Murschidabad - Made at the end of the 19th century, this crown is redolent of the Persian crown in its design, while the rich tendril decoration is of Indian influence.
Main crown of the Dalai Lama - The design of the crown is based on the fur hats common to the Tibetan highlands with panels that can be turned up or down. The main motif on the silver panels on view, which are tied together with strips of leather, is a meditating Buddha.
Royal Diadem of Tutankhamun - Discovered in the tomb of the mummified Egyptian King, Tutankhamun, in the "Valley of the Kings." Gold, decorated with carneols, obsidians and glass flux.
Robbe & Berking has provided royal families and embassies with the finest silverware products since 1874, adorning some of the world's leading and most sophisticated tables. The company is among the world leaders in the production of sterling silver and silver plated cutlery and table accessories. Family-owned, Robbe & Berking continues to encourage traditional skills and enjoys a reputation for producing classical and contemporary flatware.
"Crowns of the World" is sponsored by Aventura Mall and Lakeview Home Accessories, a private showroom offering a unique and intimate shopping experience with a wide selection of home furnishings and gifts. Lakeview Home Accessories is proud to feature R&B as a leading sterling silver manufacturer. For more information, call 305-933-5589 or visit http://www.lakeviewhomeaccessories.com.
South Florida's #1 shopping destination among international visitors, Aventura Mall ranks as one of the top five highest grossing malls in the country in sales per square foot. The 2.7 million square-foot multi-level mall is home to Nordstrom, Bloomingdale's, Macy's, Macy's Men's Home Furniture, JCPenney and Sears, more than 280 stores and restaurants, a 24-screen movie theater, and an artist-designed interactive playground, Rainbow Valley. Located at 19501 Biscayne Boulevard, the mall is open Monday through Saturday, 10 a.m. to 9:30 p.m., and Sunday, Noon to 8 p.m. For additional information, visit http://www.aventuramall.com or call 305-935-1110.
###