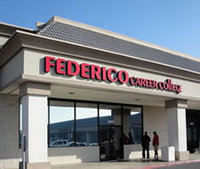 I approached Andy at a beauty school conference several months ago and explained to him the challenges I was facing as a school owner
Andover, MA (PRWEB) February 2, 2010
Effective Student Marketing (ESM) has signed on a new client, Federico Career Colleges, to help them increase enrollments for their Cosmetology, Barbering, Massage Therapy, Esthetics and Manicuring programs. The beauty school has 60 years of experience providing classroom and hands-on training to aspiring industry professionals, while the management team at ESM has extensive experience in growing vocational and career schools through social media, customized email marketing, and interactive lead generation campaigns. ESM is celebrating their 5th year in business this month.
Andy Kelley, the president of Effective Student Marketing, and his team have taken on the role of Federico Career College's (FCC) marketing department to assist with putting a more efficient and modern marketing plan in place for the school.
"I approached Andy at a beauty school conference several months ago and explained to him the challenges I was facing as a school owner," said Sam Federico, owner of Federico Career Colleges. "Andy is very familiar with the beauty school industry, and immediately understood the enrollment and marketing goals I was aspiring to achieve. Andy and his team have since been working diligently on providing my school with high quality leads, and spearheading our marketing efforts. In the last few weeks, we have already seen positive results from the work ESM has done, and I am confident we will exceed our original enrollment goals."
ESM has launched their lead generation campaign with FCC by targeting several dedicated websites to generate leads, in addition to working with affiliated networks. ESM is also designing, deploying and managing FCC's email marketing with their Education Alerts product line, sending their old leads monthly and weekly updates on upcoming class starts, events, and news related to the school. In addition, ESM is even helping FCC to redesign their corporate website by providing the school with fresh ideas and techniques to provide a more positive user experience. By providing FCC with ESM's own lead generation site, affiliated sites, a new website, and customized emails, FCC will receive high quality leads and thus more enrollments, helping to grow their school in a short amount of time.
In addition to FCC, Effective Student Marketing specializes in generating student leads for private career, technical and vocational schools with concentrations in healthcare, paralegal, and business analysis, to name a few. ESM increases enrollments, builds brand awareness, and helps to increase student retention for schools through social media, education alerts, and interactive lead generation campaigns. For more information, contact ESM at 978-475-0880.
About Effective Student Marketing
Effective Student Marketing, Inc. is a strategic marketing organization that specializes in generating student leads and enrollments for career, technical, and vocational schools across the country through the use of internet marketing tools and techniques.
The team at ESM combines experience working on the school-side with skills in the latest technology to create programs that can meet any school's needs. Marketing and recruitment programs can include online reputation management, social media marketing, cost per lead vendor management, search engine advertising, and e-newsletter production and distribution.
###