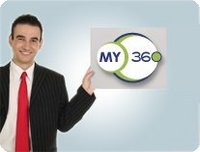 Everyone who knows me knows I'm good at running a sales team. But it took MY360 Degree Feedback to get the word out to recruiters and land me the job.
(PRWEB) February 2, 2010
No wonder job-seekers get depressed. Experts keep telling them to "make your resume stand out." Problem is, they don't say how.
Here's a surefire way to make a strong first impression: attach a 360 degree feedback report to the resume. At a glance, recruiters can see that the applicant is skillful and highly respected.
There's a new system called MY360 Degree Feedback (http://www.my360degreefeedback.com) that makes it simple for job-seekers to differentiate themselves from the crowd.
Career Enhancing Feedback
MY360 Degree Feedback collects feedback from those who know the individual best, and compiles an attractive, convincing report. It's a career-enhancing move, for under $100.
The professional questionnaire was designed by feedback expert Esther Kohn-Bentley of Panoramic Feedback. "I made sure it quantifies not only work skills but also those all-important interpersonal abilities," she said. "Employers need to know that their new employee will fit in with their values."
MY360 also includes spontaneous comments from responders, adding valuable detail and color to the numerical data.
With 360 degree feedback, there's no longer any reason for the best candidates to wait years to land a job because their resumes look like thousands of others.
###