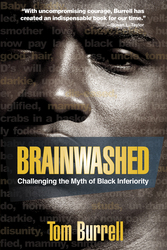 An audacious and powerful wake-up call! —Cornel West
New York, NY (PRWEB) February 1, 2010
Recently there has been a collage of disturbing images featuring black Americans: Chris Brown's abuse of his ex-girlfriend Rihanna; pro golfer Tiger Woods' serial adultery with several white women; 16-year-old honor student Derrion Albert's senseless killing by fellow teens in broad daylight; the controversial black pathology on display in the film, Precious. While these images are disturbing, they are not surprising, according to advertising visionary Tom Burrell, author of the groundbreaking BRAINWASHED: Challenging the Myth of Black Inferiority (SmileyBooks; February 1, 2010; Trade Paperback Original; $15.95).
Burrell, a 45-year veteran of the advertising industry and an inductee of the Advertising Hall of Fame, explains that such images are too often the rule rather than the exception, and their genesis can be traced back 400 years to the days of slavery in America when the Black Inferiority/White Superiority brainwashing campaign began.
Burrell calls the marketing of the myth of Black Inferiority to justify slavery within a democracy "one of the greatest propaganda campaigns of all time." In BRAINWASHED he shows how the torturous enslavement and indoctrination of a people resulted in the powerful, all-pervasive, mass-media driven brainwashing that impacts African American lives even today. The BI brainwashing campaign may be more subtle than in the past, given that a black First Family occupies the White House, but nonetheless, it exists.
In a volume both instructive and enlightening, Burrell draws on his unique experience of over four decades in the ad industry, where he coined the memorable phrase, "Black people are not dark-skinned white people." To complement the narrative's broad historical perspective, the book boasts a riveting 8-page color insert, a dramatic visual history of Black Inferiority propaganda and how blacks "pushed back" against the brainwash. It "reminds us of how far we've come and how far we've yet to go," says Burrell.
BRAINWASHED examines how the very fabric of black American life has been undermined by brainwashing--from family issues and finances to emotional and spiritual concerns, entertainment, health, and education. In each chapter, Burrell presents the contemporary manifestation of an issue that perpetuates Black Inferiority, examines the historical roots, builds a bridge to the present, and offers positive propaganda solutions.
More than a book, BRAINWASHED is a movement that offers people engagement and empowerment. Burrell explains that the most potent resource in the anti-brainwash initiative is media: audio or visual, via television, radio, film, music videos, billboards, print, the Internet, or cell phones--everything that influences our minds.
To recruit "evangelists for positive propaganda," Burrell has established The Resolution Project, a nonprofit organization dedicated to promoting community-based new media campaigns. One of The Resolution Project's first activities will be to sponsor the 1st Annual "Flip the Script…Stop the Brainwash" campaign. This worldwide competition will honor the best positive propaganda campaigns in video, art, creative writing, poetry, music, and other media based on a theme inspired by BRAINWASHED. For more information, go to http://www.stopthebrainwash.com.
"An audacious and powerful wake-up call! Brainwashed … challenges us to confront the prevailing cultural order and deprogram our minds so that we can be free and fully human."
--Cornel West
"Brainwashed is a well-argued and essential counter to those who claim the last presidential election heralded the arrival of a new post-racial age."
--Ellis Cose, columnist, Newsweek, and author of Envy of the World and The Rage of a Privileged Class
"With uncompromising courage, Burrell has created an indispensable book for our time."
--Susan L. Taylor, Editor-in-Chief Emeritus, Essence
A Selection of the Black Expressions Book Club
About the author
Marketing communications pioneer, founder and former CEO of Burrell Communications, and Advertising Hall of Fame inductee, Tom Burrell is credited with revolutionizing the image of African Americans in television and changing the face of American advertising. He lives in Chicago's South Loop area.
To arrange an interview with Tom Burrell, please contact:
Terrie M. Williams at (212) 316-0305
Or Danette Wills at (347) 244-7027
For a review copy, please call:
Rose Jefferson-Frazier at (646) 484-4962
BRAINWASHED: Challenging the Myth of Black Inferiority
By Tom Burrell
(978-1-4019-2592-5/Trade Paperback Original/$15.95, USA; $18.95, CAN; £8.99, UK)
SmileyBooks, February 1, 2010
http://www.smileybooks.com
http://www.stopthebrainwash.com
###