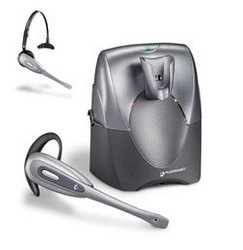 Throughout their entire transition Brandjes acknowledges the important role Headsets Direct has played.
Prescott, AZ (PRWEB) February 24, 2010
Eric Brandjes, Director of Manufacturing of Advanced Microscopy Group (AMG), is in the middle of the company's impressive expansion. A new 25,000 square foot office/warehouse in Washington state and additional off-site employees to support a new class of distribution for the company's industry-leading line of integrated fluorescence microscopes keep his plate pretty full these days. No recession here!
"Our mantra throughout this transition has been communicate, communicate, communicate," says Brandjes. "We're more spread out at our new headquarters, we have new employees in remote offices and a new class of customer that needs training and support. A big part of our being able to pull this off has been the new VoIP telephone system and the wireless telephone headsets our people use."
The VoIP telephone system (Voice over Internet Protocol) replaces wires and switches with the internet. Now, every employee is as close as an extension number, whether they're down the hall or across the country.
The company believes this creates a more seamless customer experience. A customer can be anything from a college biology lab to a top scientific, health care or safety research facility. If a customer needs to place an order, ask a technical question or check order status, they call one phone number. The AMG people who respond might be in New York City, Washington state or somewhere in between, but the customer would never know it.
Telephone headsets also play a role. Again, Brandjes, "We're basically an engineering and manufacturing company, so we generally look to technology to help solve problems. We've been believers in telephone headsets almost since we started the company 15 years ago. With the new phone system we have encouraged a broader range of employees to use wireless headsets, and it hasn't taken much encouragement.
For AMG's Technical Support people such as Joshua Tewell, whose job it is to find answers for customers, his wireless headset makes everything he does "about 15% easier." Sometimes he's digging through a database on his computer, other times he's down the hall conferring with a product expert or out in the warehouse checking on a part. "I couldn't do what I do without my headset. I can go where I need to go and do what I need to do to resolve the issue with the customer on the phone." adds Tewell.
Paula Delasandro, a member of the AMG Global Sales team, also appreciates her wireless headset, but it wasn't always the case: "I discovered headsets in 1998, and back then, they were a 'ball and chain' for a job like this. The wireless headset I use now is the best I've had. I'm hands-free and I can walk over to a microscope and trouble-shoot with a customer or field sales rep. Nine times out of ten I can do what I need to do on the call without a callback."
Throughout their entire transition Brandjes acknowledges the important role Headsets Direct has played. Headsets Direct, Inc., is a stocking distributor for Plantronics telephone headsets. Brandjes, "They recommended multiple headsets for each of the positions we needed to equip and worked with us to make sure everyone had the right headset, right down to wearing style and settings. They're knowledge and support have been indispensable."
Innovative companies are finding ways to grow and compete in some surprising places. Can telephone headsets enhance the customer experience and improve productivity? Can a vendor like Headsets Direct be a leverage point to help a company expand? In the case of high-flyer AMG, the answer is yes!
Information regarding AMG and their EVOS Fluorescence Microscopes is available at http://www.amgmicro.com.
Information regarding wireless telephone headsets and accessories and Headsets Direct, Inc., is available at http://www.headsetsdirect.com.
###