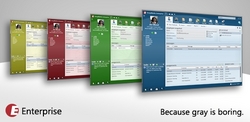 PT on Call's move to a paperless environment encompasses TempWorks' primary business goals, the elimination of exorbitant staff from back office operations resulting in an increase in their overall bottom line
Saint Paul, MN (PRWEB) February 1, 2010
PT on Call announced that their decision to go paperless in 2009 has created quite an outcome for their company, both internally and for their client's.
PT on Call has been providing Physical, Occupational, and Speech Therapists to healthcare facilities and schools since 1986. The company services Oregon, Washington, Idaho, Alaska, Montana, and Hawaii.
PT on Call was determined to be completely paperless by the end of 2009. To achieve this goal they consulted with their software provider, TempWorks, to determine what products would allow them to achieve their goal. PT on Call COO, Molly Gould, comments, "TempWorks is a powerful production tool. Since we implemented TempWorks we closed our year out in one week, and we saved overhead, as our accounting department is down to one employee. Due to the increase in effectiveness, we are doing more with less effort." Gould continues, "Our feat for 2009 was to go paperless, no notes, no files, no documents, no printing. TempWorks has helped us to obtain our goal. We use TempWorks exclusively, saving time, money, allowing us to be more effective in man power."
"PT on Call's move to a paperless environment encompasses TempWorks' primary business goals, the elimination of exorbitant staff from back office operations resulting in an increase in their overall bottom line," states VP of Payroll Processing Mari Kautzman.
TempWorks President, David Dourgarian remarks, "By using TempWorks Paperless products PT on Call is able to cut costs, improve efficiency and satisfy employees and customers, all in one integrated package."
Gould concludes, "Overall, I would say that TempWorks has allowed us to be more efficient and effective without increasing our overhead which increases our overall profit. TempWorks has been the key to our continued year after year growth, even in the roughest economy in my working lifetime."
About TempWorks Software:
TempWorks Software incorporated in Minnesota in 1997 and provides a full suite of enterprise staffing solutions. Designed to automate and streamline all facets of a staffing firm's daily operation, TempWorks Software offers fully integrated front and back-office staffing software, web portals for customers, employees, applicants and vendor management, and many additional modules. From recruiting to payroll and everything in between, TempWorks Software puts technology to work for staffing firms and their clients. For more information about TempWorks, please visit http://www.tempworks.com or contact Director of Public Relations, Laura Baratto, at 651-452-0366, or by email.
###