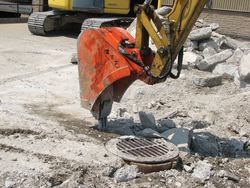 Bedford, OH (PRWEB) February 1, 2010
NPK, a leading manufacturer in the construction equipment attachment industry, announces the addition of the BB818 to the NPK Breaker Bucket product line. Heavy equipment operators have grown to appreciate the versatility of this attachment for excavators and backhoes, while contractors need to minimize delays and cut costs now more then ever, every investment in heavy equipment must be justified.
This innovative tool eliminates the need for multiple attachments, and the delays associated with transporting, changing and maintaining additional boom mounted excavator and backhoe attachments. The NPK Breaker Bucket combines the impact force of the NPK hydraulic hammer, for demolition and breaking of concrete and asphalt surfaces, with the utility of an excavator bucket for material removal and backfill, and the capability of a plate compactor to stabilize the area when finished.
The Breaker Bucket promotes a safer working environment by eliminating the need for hand held jack hammers and jumping jack type compactors. The NPK Breaker Bucket provides heavy equipment contractors with an "all in one" tool which will increase productivity, save time and money and provide a safer working environment. For more information on this as well as other quality attachments for excavators, backhoes and skidsteer loaders, please visit http://www.npkce.com.
###